The Corsair TX 750M is a very capable power supply which ticks a lot of boxes. It is a subtle looking unit which will fit well into any system build- thanks to the monochrome colour scheme. The quality of paintwork is high and the overall finishing is certainly above average for this sector.
Older TX-M units were Bronze rated, but Corsair have moved with the times and efficiency has been improved now to 80 Plus Gold levels. Our testing earlier in this article shows that the TX 750M Gold passed the 92% efficiency point at 50% percent load, hitting almost 93% in fact.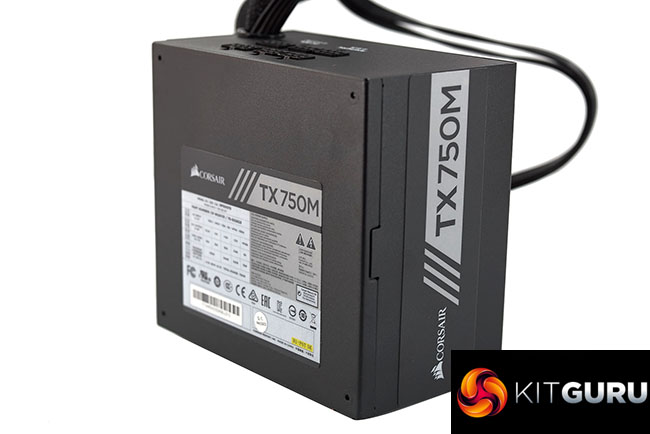 Technically, the TX 750M is a solid design. Ripple suppression rates as excellent, with all rails falling well within industry rated tolerance specifications and it passed the cross load test with flying colours. The build quality is generally very high inside and its always reassuring to see that 105c Japanese Capacitors are used throughout – especially for long term stability and reliability.
I actually hooked this power supply into a system I was testing, comprising two overclocked GTX 1080's in SLI, a watercooled, overclocked Intel Core i7 7700k and 32GB of DDR4 memory with multiple SSD's and HDD's. The system was rock solid across two days of real world testing and gaming and noise levels were never intrusive.

The only negative is that while Corsair list the official price of the TX 750M at $109.95 USD – in the United Kingdom the conversion rate is close to 1:1. You can buy it from Overclockers UK for £102.95 HERE. It is still pretty good value, but we do wish the UK prices would drop a little more, to sweeten the deal for us Brits.
Pros:
Good build quality.
low noise levels.
ripple suppression.
modular.
efficiency is excellent.
high grade cables.
we heard no coil whine throughout testing.
Cons:
UK pricing is a little high due to 'Brexit' related nonsense.
not pure modular.
A lot of high grade competition around the £100 price point.
KitGuru says: The Corsair TX 750M is a very strong power supply and technically it delivers high quality power for demanding enthusiast system builds. It delivered around 850 watts in our testing before shutting down.