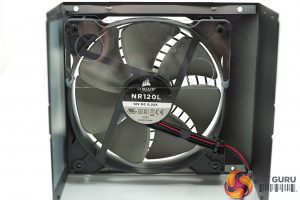 Corsair are using their NR120L fan in this unit which is made in China and rated 12V DC 0.22A. Corsair claim this is a custom fan created for high static pressure and the blades are designed to create static pressure with balancing throughout to reduce resonance at higher speeds.

If you are paying attention you can see there is a clear piece of plastic over part of the fan – this is to specifically direct the air flow over key parts of the unit underneath.
Rifle bearing fans are made for long life and quieter operation when compared to a standard ball bearing fan.
Below - a High Resolution Gallery of the internal layout of the Corsair TX 750M Power Supply
The internal build is relatively clean throughout although we noticed there was quite a lot of white fast setting adhesive used throughout, likely to help keep components from vibrating. Soldering on the PCB is very clean across the board.
Corsair are using Japanese capacitors on both primary and secondary stages, which is always good to see. The two primary caps are high grade Nippon Chemi Con, 105c rated, from their excellent KMR series. These individual caps are rated 420v 330uF, for a total of 660uF output. This is a reasonably healthy output for a 750 watt power supply.
A small daughtercard handles the +3.3V and +5V DC to DC and beside this card are the secondary output capacitors. The PFC IC is the Champion CM6500. The LLC and SR IC is the Champion CM6910 and the DC to DC PWM IC Is the Anpec APW7159.