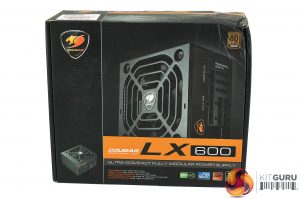 The Cougar LX Series 600 watt power supply arrives in a dark box with an image of the product on the front along with some basic specifications. We can see Cougar are offering a 3 year warranty with this particular power supply. Its actually not very clear, but they offer a 5 year warranty inside Europe. 115VAC territories get the 3 year coverage.

Our particular sample box received some rough treatment in shipping but the supply itself inside luckily wasn't damaged.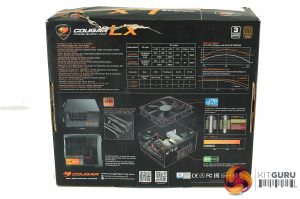 It certainly is information overload on the back of the box.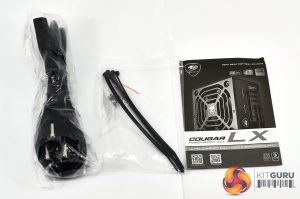 Inside the box is a regional specific power connector, some cable tidies for the system build, and a user manual alongside some mounting screws.

Connectors
– 1 x 20+4-Pin ATX12V/EPS12V
– 1 x 4+4-Pin ATX12V/EPS12V
– 4 x 6+2-Pin-PCIe
– 6 x SATA
– 3 x 4-Pin-Molex
– Warranty: 5yr
Cougar supply four PCIe connectors which is enough for a reasonable dual card SLI or Crossfire system, although you may be running in the upper 20% of power draw under load, depending on the cards you are using. The connectors use 18 AWG cables.