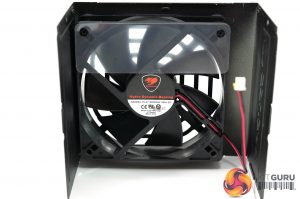 Cougar may have their name highlighted at the top of the fan sticker, but reading lower down we can see it is a Power Logic HDB fan, model number PLA12025S12M ZP. Rated specifications show that under most situations it should not spin too fast. Something we will test soon.

Cougar LX Series 600 W Power Supply Gallery
Build quality is nothing stellar, but it is reasonably good overall. Some of the soldering could be better however.
This power supply is made by OEM partner HEC and it looks like one of their older platforms, which has been slightly modified.  There are two DC-DC converters on the secondary side to drive the +3.3V and +5V rails.
I was expecting to see slightly larger (or more) heatsinks in this particular unit, especially considering the modest bronze levels of efficiency.
It is disappointing to see TEAPO capacitors in this unit but I was expecting it beforehand. I would have been more surprised to see 105c rated Rubycon. The primary capacitor is a Chinese CapXon, rated 330uF, 400V. To make matters worse, it is only 85c rated which gives me a few concerns. There is no over temperature protection in this particular unit either.
Filtering caps in the secondary stage are by another low cost Chinese brand – TEAPO. Japanese capacitors would raise the production costs dramatically but its not very reassuring to see such low grade capacitors in both stages. Not a very impressive overall choice of capacitors in this unit to be honest. There is a point to be made when people say you get what you pay for.