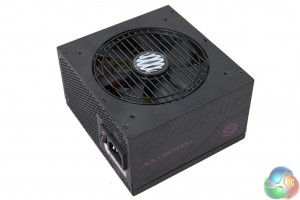 The Cyonic AU-650x isn't really what we would class as a particularly attractive looking product, but the build quality is actually quite good – all the panels feel solid under general handling. I do have to point out however that the finish is a fingerprint magnet – even with freshly washed hands it was almost impossible to keep it pristine looking for the photographs today. This is not really a massive concern as cleaning it carefully with a cloth once it is installed in a system is straightforward enough.
On a more positive note, the unit passed our 'screwdriver' stress test, which involves running a Philip's head driver down the side of the chassis with weak to modest pressure. How often have you accidentally hit a power supply with some tools during a system build phase?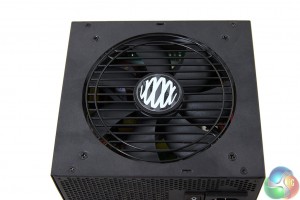 A 120mm fan resides behind the cooling grill – with the Cyonic logo proudly on display in the center. You can see what I mean now about the fingerprints!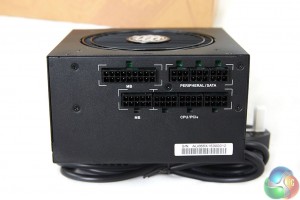 One end of the chassis is home to the modest modular bay – all clearly labeled for ease of use during the build phase.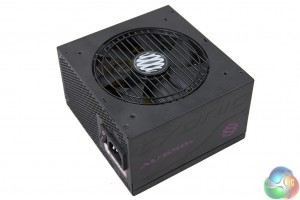 The other end of the power supply is vented with a power connector and switch at the side.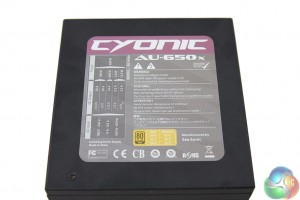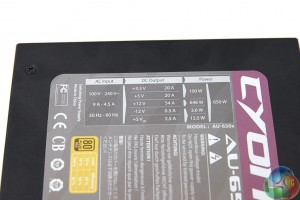 We can see above that the sticker on the unit shows 'manufactured by Seasonic'. Not a bad thing to see at all.
Cyonic AU-650x

DC Output

+3.3V

+5V

+12V

-12V

+5Vsb

Max Output

20A

20A

54A

0.3A

2.5A

Total Power
100W
648W
3.6W
12.5W
650W
The power distribution above is exactly the same as the Seasonic G Series 650W power supply that we reviewed some time ago. 54A available on the +12V rail is good.