This is our first look at a power supply from new company Cyonic and the analysis has been positive. I can't say this is actually that much of a shock however as Seasonic are the manufacturer. We have tested dozens of Seasonic power supplies in the last four years and they have been the most consistent of any brand featured in our labs.
The Cyonic AU-650x produces stable load regulation and it handled the cross load test without issue. Noise suppression is good, if not class leading and well within the industry rated tolerance range. +3.3V and +5V held at 15mV and 20mV respectively under full load conditions. +12V peaked at 35mV when the supply was under full load – again well within the 120mV limit guidelines.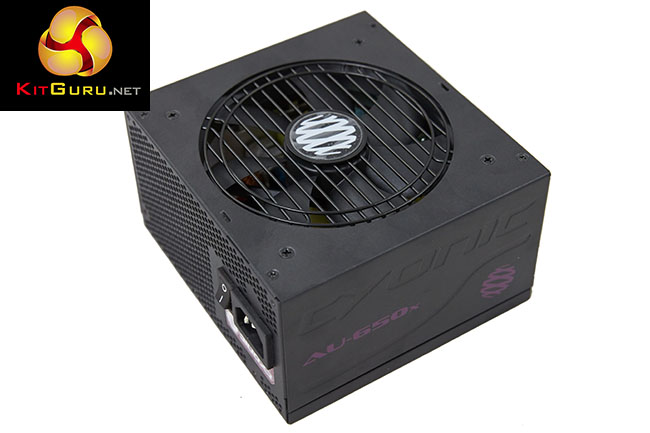 The adoption of a quality Fluid Dynamic Bearing fan means that the unit is quiet under even heavy load and the noise of the 120mm Hong Hua fan is likely to be masked completely by a couple of case fans.
Technically the unit is very solid and it doesn't exhibit any concerning flaws, my main concerns are actually more related to the appearance, rather than anything technical. The case finish seems to attract fingerprints extremely easily and it would be fair to say it is one of the most bland looking power supplies we have seen – almost as if the company are hiding their name with a simple no colour chassis cut out. For those people without a windowed case panel this may not be an issue, but there are some rather attractively finished competitor power supplies just under £100.
On a more positive note, the pure modular design will prove popular with OCD suffering PC builders as you can completely control the routing without battling against hard wired cables you will never use.
You can pick up the Cyonic AU-650x from Scan in the UK for £84.98 inc vat HERE. There are other alternatives at the same price, such as the Seasonic SS-650RM which is available from Scan for £84.78 inc vat HERE. This is the biggest challenge that Cyonic are going to face – taking on well known market leaders at the exact same price point.
Discuss on our Facebook page, over HERE.
Pros:
Technically capable Seasonic design.
low noise emissions.
ripple suppression is good.
Cons:
a very bland looking power supply.
fingerprint magnet.
serious competition at the same price point.
Kitguru says: The Cyonic AU-650X faces stiff competition but technically it is a very capable power supply.