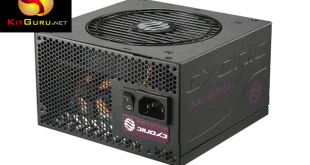 'Cyonic' is a company name not many of our readers will recognise. They are a new brand who claim to target the enthusiast audience with competitively priced, high quality power supplies. Today we look at their AU-650x – a fully modular DC to DC converter design featuring premium quality Japanese Electrolytic Capacitors. At £85 inc vat at Scan in the UK – should this new power supply be making a final shortlist?
Information on Cyonic is quite limited online however according to their 'about us' webpage – 'The establishment of Cyonic is the result of a long time wish of a few computer enthusiast, tech geeks and gamers to build on the foundations of strong friendship and comradery to establish a company that is able to provide the highest level of equipment for users that want to take their computer experience to the extremes.'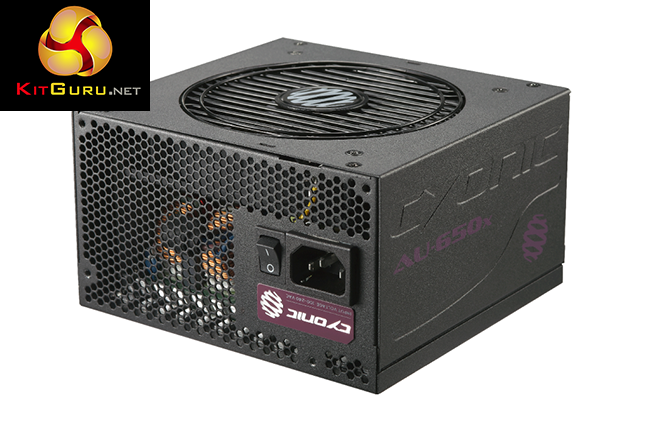 Features:
80 PLUS Gold Certified
80 PLUS Gold certification guarantees greater than 87 %, 90 %, and 87 % efficiency at 20 %, 50 %, and 100 % operating loads, respectively.
FDB (Fluid Dynamic Fan Bearing) – 120 mm
It greatly reduces fan noise during operation. As there is less friction inside, the fan will have a longer life.
Compact ATX Size
The power supply is only 140 mm in depth, which makes it an excellent choice for smaller sized cases.
DC to DC Converter Design
Excellent dynamic response and maximized 12 V DC rail output increase system stability.
Fully Modular Cable Design
Fully customizable cables not only simplify the installation process but also reduce the clutter inside the computer case. Reduced number of components allow for better ventilation and enhanced cooling.
Gold Coated Connector Contacts
The connectors do not tarnish over time and increase the efficiency of current transmission.
105 °C Japanese Electrolytic Capacitors
Japanese CapPremium quality Japanese capacitors with 105 °C rating increase reliability and extend product life.
Silence Guard System
Silence GuardIt is an innovative design with high quality silent fan, strategically placed heat sinks and the interactive fan control system, which make the power supply run silently and efficiently.