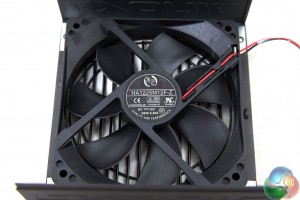 Cyonic are using a Hong Hua 120mm fan (HA1225M12F-Z). This is a Fluid Dynamic Bearing (FDB) fan. We have seen this fan used in some Seasonic power supplies recently, including the Snow Silent 750 w model which we reviewed earlier this year.
These fans not only tend to emit lower noise levels, but they are rated to last longer as well due to the lubrication of the bearing itself.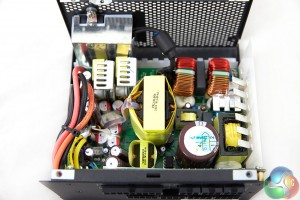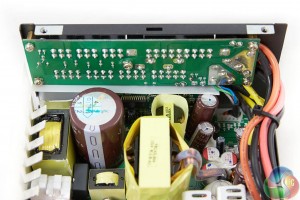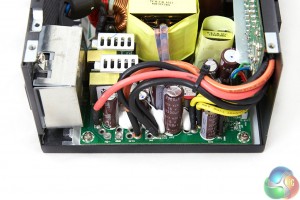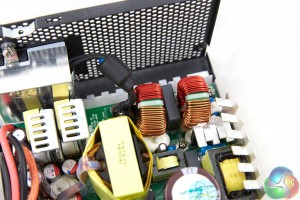 This power supply is designed by Seasonic and looks like a heavily revised version of one of their G Series units – the layout is resonant LLC primary with a synchronous rectification on the secondary – with DC-DC VRMs for the minor rails.
Soldering quality is very good, as we would expect from Seasonic. Filtering starts on the housing and features Y capacitors and X capacitors which are shielded behind a metal casing. The filtering continues onto the main PCB – and is different than the Seasonic G Series 650 watt model we analysed some time ago.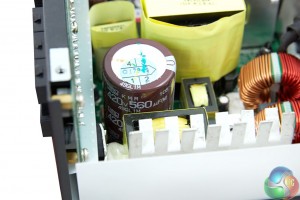 Almost hidden in a corner is the primary capacitor, a 420v 560uF 105c rated Japanese Nippon Chemi Con KMR model. High grade capacitors and able to deal with a lot of heat over extended periods of time.
The secondary side is different to the G Series models also, some of the VRMs change location on the PCB and are contained in separate PCBs with dedicated heatsinks. Other solid and standard capacitors in the unit are supplied by FPCap, Enesol  and Nippon Chemi Con.