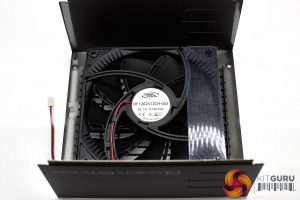 The fan is not a larger 140mm model, but only 120mm. The model number is DF1202512CH-003 rated 12V 0.15A (GP). This is actually a single fluid dynamic bearing model with a long rated lifespan. The company claim 120,000 hours MTBF.

Below - a High Resolution Gallery of the internal layout of the power supply.
If you dont see the gallery below, turn off your ad blocker.

This is a CWT designed power supply. The soldering quality throughout is good. CWT have a good reputation for this, and they live up to their name with this unit. All the capacitors are Japanese branded, both polymer and electrolytic. Filtering capacitors – both polymer and electrolytic are proved by Japanese companies such as Rubycon and Chemi-Con.
The primary side is a half bridge topology along with an LLC resonant converter to improve efficiency. In the secondary side six FETs regulate the +12V rail and a pair of DC-DC converters deal with the generation of the minor rails.
The primary capacitor is a high grade Japanese Nichicon – rated 105C, 470F and 400V.
The first part of the EMI filter is formed around a single X cap and two Y caps. The second stage of this has two Y caps after the bridge rectifier and a single cap with an MOV. The EMI filter is solid and performs well. A couple of VRM's generate the secondary rails. There are plenty of polymer caps on the front side of the modular PCB to help suppress ripple. The modular panel is connected to the main board through several bus bars, in order to restrict energy losses.