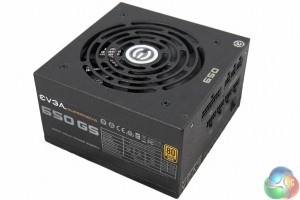 We like the rough textured finish of the EVGA SuperNOVA 650GS, the matt paint is tough and resistant to scratching, which is always good to see.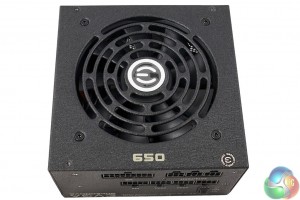 The fan is hidden behind a grill, which is cut into the chassis. We will take a closer look at the fan when we open the unit later in the review.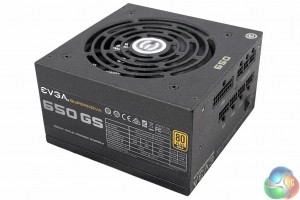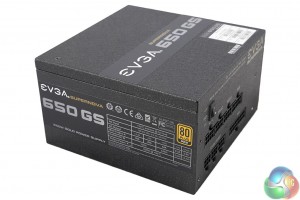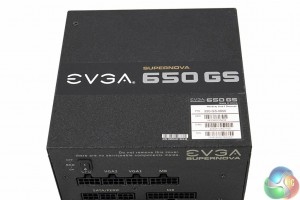 There are stickers adorning the top and sides of the unit which I have to admit I don't find that appealing. It measures 86mm x 150mm x 150mm (HxWxL).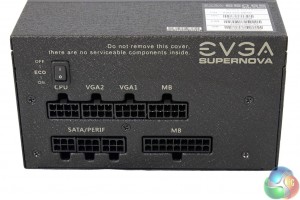 The modular panel has a total of 8 connectors, and the ECO fan switch control is visible top corner. All the connectors are clearly labelled, which makes life easier. The ECO fan switch allows the user to switch the unit into silent, fanless mode for lower power situations.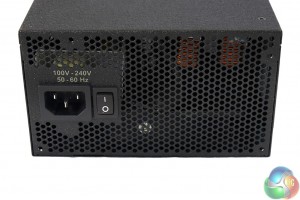 Flipping the power supply around – we can see a vented panel, alongside a power switch and connector.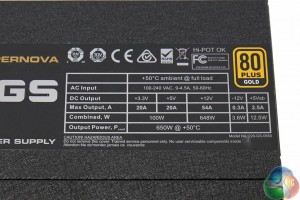 EVGA SuperNOVA 650 GS Power Supply

DC Output

+3.3V

+5V

+12V1

-12V

+5Vsb

Max Output

20A

20A

54A

0.3A

2.5A

Total Power
100W
648W
3.6W
12.5W
650W @ +50C
This power supply can deliver 54A across the +12V rail. The +3.3V and +5V output 20A each.