The SuperNOVA 650GS is another high grade power supply to grace the eVGA ranks. Unlike the very expensive SuperNova P2 1200 and P2 1600 supplies that we reviewed a few months ago, the SuperNOVA 650GS is targeting the mass enthusiast audience. The asking price is more modest, hitting retail at around £80 inc vat in the United Kingdom.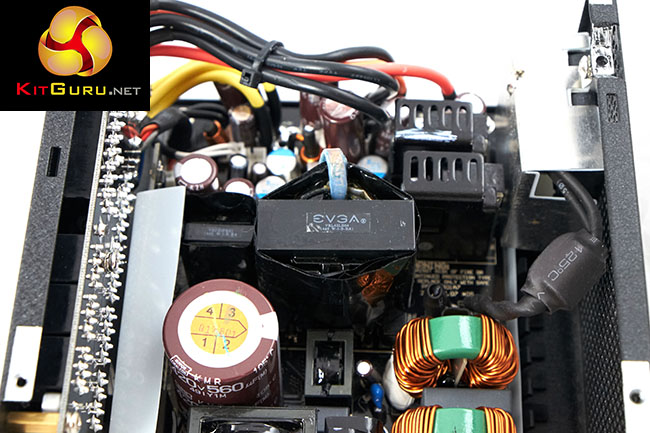 Technically, the 650GS is a solid, reliable performer. We would expect this however, as EVGA are working with market leader Seasonic as the OEM partner for these units. Voltage regulation is stellar across the +3.3V, +5V and +12V output, and ripple is held well within industry rated tolerance levels.
The EVGA ECO Intelligent Thermal Control System is a nice touch, as it allows the unit to operate in silent, fan less mode during low to mid power demand. Even without this mode enabled, the power supply runs very quietly with fan noise likely to be masked out completely by a single case fan.
While overall performance is excellent, the Seasonic G Series platform (which the Supernova 650GS is based on) is not a clear market leader at the price – there are a select group of companies who have created very capable designs in the same price category. Superflower are one such company who spring to mind when making a final shortlist.

The modular cabling supplied with the SuperNOVA 650GS is high grade, and the pure modular design will certainly appeal to those building inside a space restrictive, or windowed chassis.



You can buy the EVGA SuperNOVA GS 650GS from Overclockers UK for £76.99 inc vat.
Discuss on our Facebook page, over HERE.

Pros:
lovely finish.
compact design.
pure modular.
technically very robust.
high levels of efficiency.
low noise levels.
Cons:
stiff competition at this price point.
Kitguru says: The EVGA SuperNOVA is a solid performing power supply that delivers great results. The pure modular design, high build quality and low noise levels will appeal to the discerning enthusiast user.