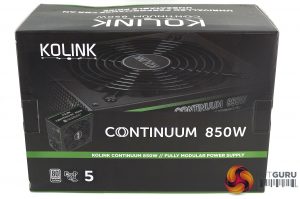 The Kolink box artwork is pretty dark and moody. I like it as you see a nice high quality image of the power supply on the front.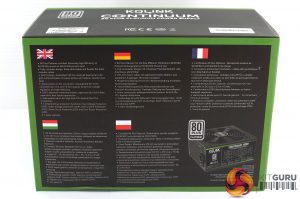 The rear of the box shows some key features in multiple languages.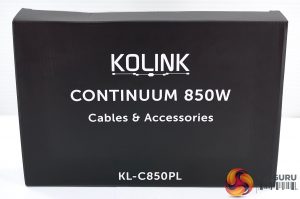 Inside the outer box alongside the power supply is a smaller box containing all the cables and accessories. It is worth pointing out that there is no power cord supplied with this power supply. We asked Kolink representatives who told us that 'all professional miners use their own powercords – custom lengths, even often custom cables similar to C13 extensions).'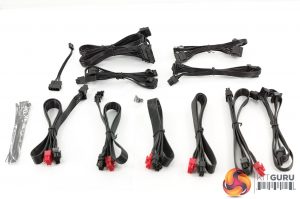 Connectors (removable):
Motherboard: 1x 20+4-Pin ATX12V/EPS12V
CPU: 1x 4+4-Pin, 1x 8-Pin ATX12V/EPS12V
6x 6+2-Pin PCIe
8x SATA
6x 4-Pin Molex
The Kolink Continuum 850W unit is completely modular, and all the cables are the thin ribbon style cables that make cable routing easy. The unit ships with 6x PCIe cables (for the miners out there) and there are 2 CPU connectors as well which is a welcome addition – especially for those people who want to build a new Threadripper system.