The Kolink Continuum 850W Platinum power supply follows a similar path to the Continuum KL C1500PL which we reviewed back in January this year. It seems to be slanted towards miners who want ultimate long term reliability with multiple graphics cards.
First impressions are a let down, just like previous experiences I have had with Kolink products. The stickers on the unit are ugly, sometimes not even stuck on straight and the red and green accenting clashes. It is like Santa let the elves go a little crazy after a party. On a more positive note the paintwork is actually not bad at all, but this could not be classed as a great looking power supply by any stretch of the imagination.

Kolink are targeting their power supplies towards the mining audience. As such they use long life, 140mm ball bearing fans with a focus on cooling efficiency, rather than noise suppression. They can get fairly loud – depending on the specific load, and the only saving grace is the pitch resonates at lower frequencies, meaning they aren't quite as ear piercing as you might think. Still, if you yearn for a quiet system, you will want to be looking at other supplies.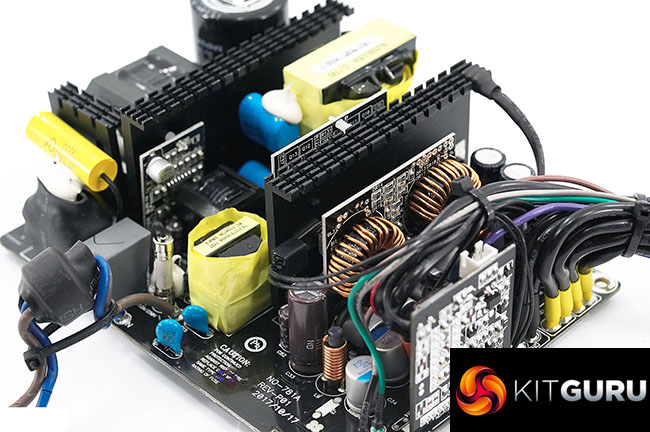 It is true that miners don't care about noise but why no power cable in the box? As mentioned earlier in the review, I have spoken to Kolink about the fact they don't bundle a power cable with these units and they said that most miners will have their own power cords anyway – either custom designs or C13 extensions). Perhaps its not that big a deal for a portion of our audience, but I would imagine it might be irritating for some customers to have their system ready to go and realise they need to go online to purchase an additional power cable, and then wait for another day or two for it to arrive. Its not the cost, its just the convenience.
When we get to the technical side of the power supply, first impressions faded quickly. The new Highpower HPS platform (LLC/DC-DC) proved rock solid during our testing and it delivered a very high standard of power to all the components. Ripple suppression is excellent and the load regulation proved stellar too. We managed to get over 950 watts from it before it shut down safely.
We tested the system in a 'real world' environment, comprising two GTX 1080's and an overclocked Threadripper processor. The inclusion of two CPU connectors will be welcomed by the AMD audience looking for a reasonably priced quality power supply for their new Threadripper build.
Thankfully the unit is fully modular, which helps to ensure a neat, clean build. Technically there is little to fault at the price – Kolink are using 100% Japanese capacitors throughout, and the primary stage cap is 105C rated, manufactured by Rubycon – a great Japanese manufacturer.
Kolink offer a 5 year warranty with this power supply, which while not ground breaking compared against the 12 year warranty offered by market leader Seasonic, still gives peace of mind for a reasonably long time.

You can buy the Kolink Continuum 850W 80 Plus Platinum power supply from Overclockers UK for £119.99 inc vat HERE.
Looking at other brands 850W Platinum power supplies on OCUK HERE we can see just how competitively priced the Kolink is at £119.99. Many of the competitor units are priced between £140 and £220!
Pros:
very competitively priced.
100% Japanese capacitors.
fully modular.
technically rock solid.
delivered 950 watts+
quality paintwork.
Cons:
Can get loud.
fugly stickers galore.
no power cable supplied.
Kitguru says: Another quality, technically solid unit from Kolink – designed with miners in mind. It can get loud, but based on our tests it will likely take heavy abuse over many years under constant heavy load. At the current price, its a bargain.