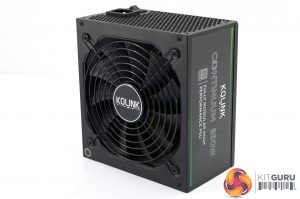 Like other Kolink power supplies we have reviewed in recent years, the finish is quite good although I still find their green accented stickers a little ugly.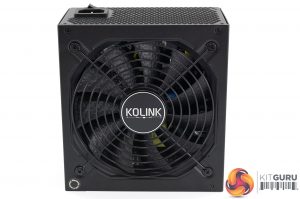 A large 140mm fan can be seen behind a black grill with the Kolink company branding seen clearly in the middle of the grill. We will take a closer look at the fan when we open the chassis later in the review.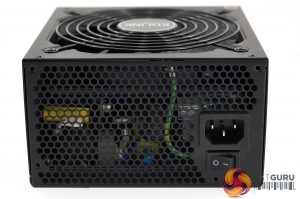 One side of the power supply is home to a power connector, switch. The rest of the area is vented to help with airflow.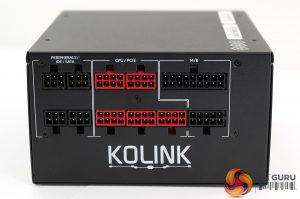 Red connectors – to match the green stickers. Might be one for Christmas. Mmm. The modular connector panel is neatly laid out with 'three' sections visible to the naked eye. The M/B connectors are along the right side. The SATA and MOLEX connectors connect along the left side with the central position supporting the PCIe and CPU cables.
Kolink Continuum 850W PSU

DC Output

+3.3V

+5V

+12V

-12V

+5Vsb

Max Output

22A

22A

70.9A

0.3A

3A

Total Power
120W
850W
3.6W
15W
850W
The single +12V rail is able to deliver 70.9 amps which is plenty for any Crossfire or SLI system build I can imagine. The larger 1050W and 1200W Continuum models are capable of delivering 87.5A and 100A respectively.