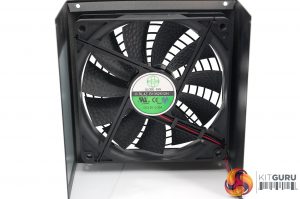 Like many of the Kolink power supplies, the company are using a GLOBE Fan – Model number RL4Z B1352512H. This fan is rated 12V, 0.33A. We noticed this is the same fan as in the 1200W unit, although the 1050W model had a RL4Z B1352512M fan which is rated 12V 0.28A.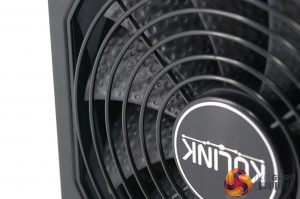 This is a ball bearing fan (2BB) with 'golf surfaced blades' which hopefully you can see clearly enough in the zoomed up image above. We have seen this on Sharkoon Silent Eagle fans in the past, and the purpose of the design is to remove surface noise as the air is pushed through.
If the image gallery below doesn't display for you it is likely a code conflict with your ad blocker. Consider supporting us as we display simple image ads to help fund our publication.
This unit is based on the brand new Highpower HPS platform (LLC/DC-DC). Kolink where involved in tuning and tweaking the unit to their specific requirements. Soldering quality is pretty good, with a few rough spots, but overall, its pretty clean. Due to the high levels of efficiency there are only a few rows of heatsinks to keep the heat under control.
It is good to see a Made In Japan 'MIJ' sticker on top of the primary capacitor. This is a Rubycon unit, rated 400v 680uF at 105C. A quality cap. The secondary capacitors are also Japanese so I have quite a lot of confidence in the design over the long term. No corners seem to have been cut.
This primary capacitor is generously specified for an 850W supply, and it compares well against the Non ULTRA Seasonic PRIME Platinum 850W which shipped with a 660uF capacitor. Seasonic upgraded their capacitor count in the new ULTRA 850W Platinum version – with a 470uF and a 330uF (total of 800uF).
The 1200W Kolink Continuum adopted Japanese Nippon Chemi Con capacitors, but I rate both Rubycon and Chemi Con at a very high level, so Kolink are clearly using whichever is available at the time. Not a TEAPO capacitor in sight, which gets a big thumbs up from me.