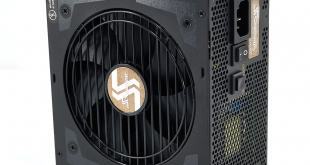 Today we are looking at one of the newest power supplies from market leader Seasonic. Their Focus Plus Gold range targets a wide audience for Seasonic, featuring 80 Plus Gold Certification, high grade Japanese capacitors, a pure modular design and typical Seasonic build quality. We analyse the highest power output capacity model in their current line up, an 850 watt unit.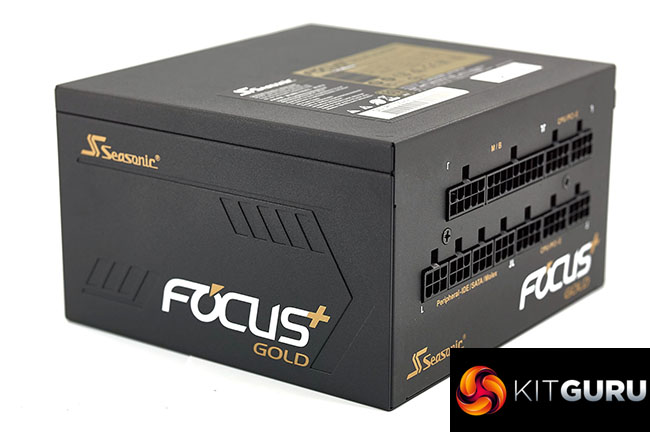 Seasonic FOCUS PLUS comprises multiple units with different output capacities – 550W, 650W, 750W and 850W. Seasonic have been keen to point out that they don't send 'Golden Samples' to reviewers and they asked Overclockers UK to ship a unit from their stock. A unit that anyone could have bought directly from the etailer themselves.

I think this is a great way to do things – but unknown to Seasonic I have bought my own Seasonic power supplies in the past for KitGuru to double check some of our results. I sometimes feel its important to do this, even if it costs a business money – as you are making sure that you do test what people can buy. I would hate to think any company would be sending out 'Golden Samples' to reviewers, but stranger things have happened.
Seasonic FOCUS power supplies are split into two separate ranges. The FOCUS (without a 'Plus') is a semi modular design rated only at 80 PLUS GOLD. The FOCUS PLUS is fully modular and is available in both 80 PLUS Gold and Platinum ranges.
Seasonic say these units have a 10 year warranty for peace of mind. It is a full bridge LLC design with a small 140mm deep footprint.
SEASONIC FOCUS PLUS Features:
80 PLUS Gold efficiency
Micro Tolerance Load Regulation @ 1.0%
Premium Hybrid Fan Control (S3FC)
120mm Fluid Dynamic Bearing (FDB) Fan
Gold Plated High Current Terminals
Highly Reliable Aluminum Electrolytic Solid Capacitors
Protection features: OPP, OVP, UVP, OCP, OTP, SCP.
Review photography handled in house at KitGuru with a Leica S series medium format camera and S series prime lens. Please do not use any of the images within this review without express permission.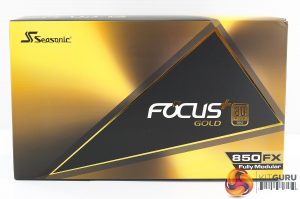 The Seasonic FOCUS PLUS Gold box is very bright and eye catching. I had to find my sunglasses for the photography.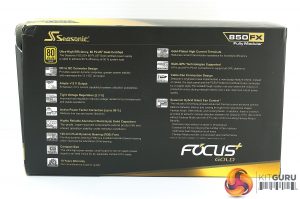 The rear of the box lists specifications and various features of the supply.
Inside on top is a user manual, some cable ties, mounting screws and a FOCUS Sticker. Seasonic also supply a regional power cable.
The modular cables are supplied inside a soft felt bag, as shown above. You can use this to store any left over cables as well.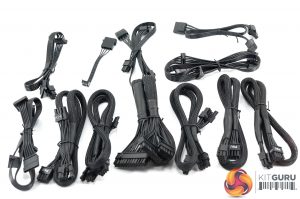 Seasonic use a mixture of sleeved and flat ribbon style cabling as shown in the image above. There are plenty of PCIe power cables to handle beefy SLI and Crossfire gaming systems. There are also 10 SATA connectors included to cater for enthusiast users with plenty of hard drives and Solid State Drives.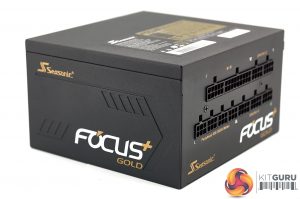 The Seasonic Focus Plus 850W power supply is painted matte black and measures only 140mm deep. Regular readers will notice that the outer chassis is very different in design than other PRIME units we have reviewed in the last year. Build quality is at a similar level to the higher cost units in the Seasonic range – which is very reassuring to see. Paintwork is quite deep and pretty resistant to scratching as well.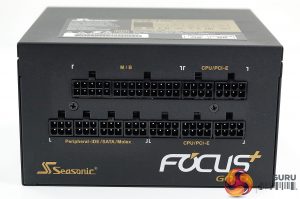 The modular bay is cleanly laid out and labelled for ease of install. No chance of mixing up Peripheral and PCI-E connectors as they are different pin configurations (CPU-PCI/E is 4+4 and Peripheral is 3+3).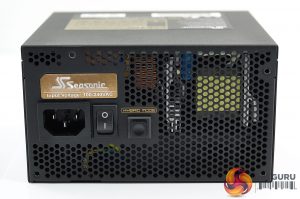 The other side of the chassis is home to the power cable connector, power switch and Hybrid mode switch which offers semi fanless mode when enabled. The rest of the panel is honeycomb vented to help with air flow.
The fan guard is a straight metal grill with Seasonic branding in the middle. Seasonic are using a large 120mm fan, and we will get a closer look at this when we open the chassis later in the review.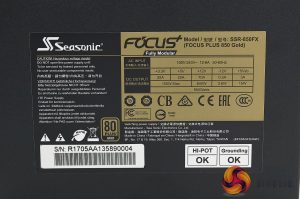 The power supply has a 12V output up to 70A, which is around 98.8% of the units total capacity. Each of the minor rails (3.3V and 5V) have a capacity of 20A with a combined rail output of 100 Watts. This is a fairly standardised set of figures from Seasonic based on all of the 850 Watt units I have reviewed from them in recent years.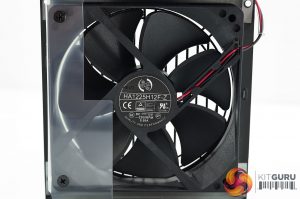 Seasonic are using a high grade Hong Hua fan (Model: HA1225H12F-Z). This unit is built around a Fluid Dynamic Bearing for quiet operation and long life. It is rated 0.58A, at 12 VDC. Maximum speed is rated at 2,200rpm, producing 73.9CFM at 32.4dBa. You will notice the unusually cut plastic cover along the left side of the fan – this is to direct the air flow at specific parts of the power supply underneath.
Below - a High Resolution Gallery of the internal layout of the Power supply.
Please be aware if the gallery doesn't load you will need to disable your ad blocker as it interferes with the code.
Soldering quality throughout is excellent as we would expect from Seasonic. Very clean job indeed. This is a new platform.
Inside are a fair few smallish heatsinks to aid with cooling key components. The power supply is using a full bridge LLC topology with synchronous rectification with DC-DC VRM's for +3.3V and +5V rails on secondary.
Input filtering starts on a small PCB with Y and X capacitors in place – moving to the main PCB for completion.
Seasonic are using high grade Japanese capacitors throughout the build with a single 105c rated Nippon Chemi Con positioned in the primary stage. This is rated 400v 650uF. Interestingly Seasonic have adopted two primary capacitors in their earlier higher cost PRIME units. The Prime 850W Platinum for instance uses two Nippon Chemi Con capacitors at 400v 330uF each, for a total of 660uF output. The Seasonic Titanium 850W unit is ridiculously over specified – fitted with two Nippon Chemi Con 650uF and 450uF capacitors to output 1100uF!
In the secondary stage are a mixture of solid and standard electrolytics from Nippon Chemi Con. Full marks to Seasonic for their work in this new platform.
Correctly testing power supplies is a complex procedure and KitGuru have configured a test bench which can deliver up to a 2,000 watt DC load. We run at 35c in our environment to greater reflect warmer internal chassis conditions.
We use combinations of the following hardware:
• SunMoon SM-268
• CSI3710A Programmable DC load (+3.3V and +5V outputs)
• CSI3711A Programmable DC load (+12V1, +12V2, +12V3, and +12V4)
• Extech Power Analyzer
• Extech MultiMaster MM570 digital multimeter
• Extech digital sound level meter
• Digital oscilloscope (20M S/s with 12 Bit ADC)
• Variable Autotransformer, 1.4 KVA
We test in a single +12V configuration.
DC Output Load Regulation

+3.3V

+5V

+12V

+5VSB

-12V

A

V

A

V

A

V

A

V

A
V

85W

0.90

3.32

0.88

5.00

6.05

12.04

0.50

5.01

0.20
-12.03

170W

1.60

3.32

1.64

5.00

12.42

12.03

1.00

5.01

0.20
-12.04

420W

3.18

3.31

3.15

4.99

32.40

12.02

1.50

5.00

0.20
-12.04
640W
4.00
3.31
4.05
4.98
48.92
11.98
2.00
5.00
0.30
-12.04

850W

5.00

3.32

5.20

5.00

65.68

11.94

2.50

5.00

0.30
-12.05
Load regulation is stellar with all rails exhibiting very minor fluctuation under load.
Seasonic FOCUS PLUS Gold (FX) 850W

Maximum Load
910W
We managed to get the power supply to deliver 910W before it would shut down, delivering around 60W more than rated specifications.
Next we want to try Cross Loading. This basically means loads which are not balanced. If a PC for instance needs 500W on the +12V outputs but something like 30W via the combined 3.3V and +5V outputs then the voltage regulation can fluctuate badly.
Cross Load Testing
+3.3V
+5V
+12V
-12V
+5VSB
A
V
A
V
A
V
A
V
A
V
760W
1.0
3.32
1.0
5.00
60.0
11.95
0.2
-12.03
0.50
5.01
165W
15.0
3.29
18.0
4.95
2.0
12.04
0.2
-12.04
0.50
5.01
The power supply dealt with the demanding cross load test very well exhibiting only minor fluctuation. It was tasked with 60A on the +12V rail and it held at 11.95V. The other rails delivered good results also.
We then used an oscilloscope to measure AC ripple and noise present on the DC outputs. We set the oscilloscope time base to check for AC ripple at both high and low ends of the spectrum.
ATX12V V2.2 specification for DC output ripple and noise is defined in the ATX 12V power supply design guide.
ATX12V Ver 2.2 Noise/Ripple Tolerance

Output

Ripple (mV p-p)

+3.3V

50

+5V

50

+12V1

120

+12V2

120

-12V

120

+5VSB

50
Obviously when measuring AC noise and ripple on the DC outputs the cleaner (less recorded) means we have a better end result. We measured this AC signal amplitude to see how closely the unit complied with the ATX standard.
AC Ripple (mV p-p)
DC Load
+3.3V
+5V
+12V
5VSB
100W
5
5
10
5
225W
5
5
15
5
450W
5
5
20
5
675W
5
5
25
5
850W
10
5
25
5
Noise suppression results are extremely impressive, hitting 10mV and 5mV on +3.3V and +5V rails respectively. The +12V rail peaks at 25mV under full load conditions. Great results really overall.
Efficiency (%)

100W

88.8

225W

90.7

450W

92.3

675W

91.6

850W
90.4
Efficiency is very good, peaking at 92.3 percent at 50 percent load. This drops to around 90.4 percent at full load.
We take the issue of noise very seriously at KitGuru and this is why we have built a special home brew system as a reference point when we test noise levels of various components. Why do this? Well this means we can eliminate secondary noise pollution in the test room and concentrate on components we are testing. It also brings us slightly closer to industry standards, such as DIN 45635.
Today to test the power supply we have taken it into our acoustics room environment and have set our Digital Sound Level Noise Decibel Meter Style 2 one meter away from the unit. We have no other fans running so we can effectively measure just the noise from the unit itself.
As this can be a little confusing for people, here are various dBa ratings in with real world situations to help describe the various levels.
KitGuru noise guide
10dBA – Normal Breathing/Rustling Leaves
20-25dBA – Whisper
30dBA – High Quality Computer fan
40dBA – A Bubbling Brook, or a Refrigerator
50dBA – Normal Conversation
60dBA – Laughter
70dBA – Vacuum Cleaner or Hairdryer
80dBA – City Traffic or a Garbage Disposal
90dBA – Motorcycle or Lawnmower
100dBA – MP3 Player at maximum output
110dBA – Orchestra
120dBA – Front row rock concert/Jet Engine
130dBA – Threshold of Pain
140dBA – Military Jet takeoff/Gunshot (close range)
160dBA – Instant Perforation of eardrum
Noise (dBA)

100W

<28.0

225W

<28.0

450W

29.8

675W

31.8

850W
35.8
The large fan spins relatively slowly under low to modest load levels. Above 60% the fan spins up to counter rising heat. At full load the fan is clearly audible but never too intrusive.
Temperature (c)

Intake

Exhaust

100W

37

40

225W

38

43

450W

40

50

675W

45

55

850W

47

60
The large fan works well to expel heat out the rear of the chassis. The overall results are very good indeed.
| | |
| --- | --- |
| Maximum load | Efficiency |
| 910 watts | 90.0 |
At 910 watts, the efficiency level measures 90.0%. Not a practical situation to be running 24/7, but worth noting.
The Seasonic FOCUS PLUS Gold 850W is yet another power supply in the company line up to deliver, quality, high grade power to a demanding enthusiast system.
The build quality is fantastic, and there are no indications that Seasonic have cut any manufacturing corners to hit a more competitive price point in the mid range market. The external paint work is stellar, and the overall look will fit in many builds without ruining the overall appearance. It is without question a very well built power supply to solidify the companies standing in the enthusiast sector.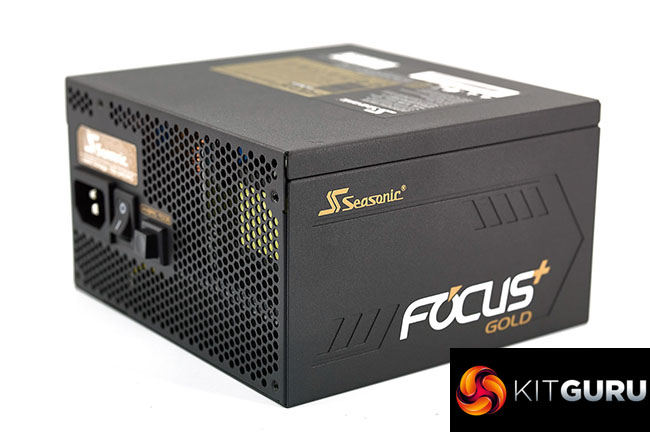 The FOCUS PLUS Gold is a new design from Seasonic and it has been admirably executed. These power supplies are set to replace the S12G and G units which have been around now for a long time. The FOCUS PLUS gets a high recommendation from us, and with the 10 year Seasonic warranty – there is plenty of peace of mind for now and far into the future.
Technically, the FOCUS PLUS Gold is rock solid. Noise suppression is worthy of another mention, and the efficiency levels are high, easily achieving 80 Plus Gold certification. Voltage regulation is another plus point – without any hitches in the delivery we can mention.
As always. the Seasonic modular cabling is top drawer although we would imagine a specific audience would prefer Seasonic to ditch the fatter sleeved cables on the PCIe and CPU cables to universally focus on flat ribbon style cables.
The power supply in operation is very quiet. Seasonic have improved their fan selection in recent years, and the latest Hong Hua Fluid Dynamic bearing fan adopted in this 850W unit is very quiet unless you are constantly demanding in excess of 750 watts. If so, you would be better investing a little more cash on a 1000 watt unit as it would put less stress on the capacitors and reduce overall noise levels. The Seasonic PRIME 1000W Platinum unit (or Titanium if you can afford it) would be one of my first choices for this kind of load situation.

Buy the Seasonic FOCUS PLUS Gold (FX) 850W power supply from Overclockers UK for £124.99 inc Vat HERE.
Discuss on our Facebook page, over HERE.
Pros:
Typical Seasonic build quality.
High grade Nippon Chemi Con capacitors used throughout.
Load regulation.
Ripple suppression.
achieved 80 Plus Gold in our tests.
new design is solid.
Pure modular.
quiet.
Cons:
KItGuru says: The Seasonic FOCUS PLUS Gold 850W supply is technically robust and its built to the very highest standards. We rate it very highly indeed.