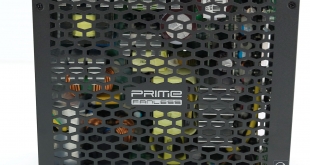 Over the years Seasonic have been behind some of the highest grade fanless power supplies on the market. The X-Series 460W and Platinum Fanless 520W bring back some great memories for me. It would be fair to say that Seasonic have taken their time in releasing a modern day successor. Enter their new Prime Titanium Fanless supply – offered in a staggering 600 watt capacity. Is this one of the finest power supplies of 2017? I would go as far to say that it is quite possibly one of the finest power supplies ever made.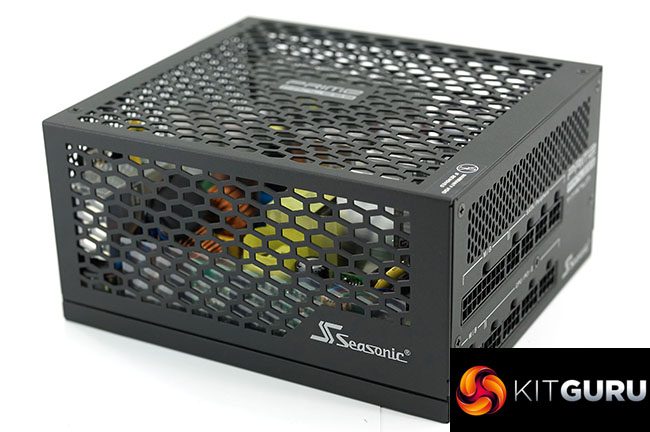 Seasonic have won more awards on KitGuru than any other manufacturer – their continued unwillingness to sacrifice build quality or component selection ensures their name has been synonymous with quality in the minds of the enthusiast user.


The challenges of creating an effective, fanless power supply should not be trivialised. Maintaining a sensible physical size yet being able to passively cool the components inside without suffering stability issues is a time consuming process.  Dissipating excess heat from the components effectively as the power demand rises above 500 watts requires some careful planning and execution.
The more observant among you will already have noticed that Seasonic have been continually increasing efficiency levels. This latest 600 watt unit has achieved 80 Plus Titanium levels – which is an 96+% efficiency level at 50% load. The benefits of improving  efficiency helps the company increase the power delivery as there is less wasted power and heat to contend with.
Seasonic are so confident in this new design that even though they have removed the fan from the unit – they are offering a 12 year manufacturers warranty. Peace of Mind is not an issue.
High efficiency – 80 PLUS® Titanium.
Highest power output Fanless unit on the market.
MTLR (Micro Tolerance Load Regulation) @ 0.5 %.
High end components and design.
Gold-plated high current terminals.
Highly reliable aluminum electrolytic solid capacitors.
Protection features: OPP, OVP, UVP, OCP, OTP, SCP.
12 years warranty – industry-leading.
Review photography handled in house at KitGuru with a Leica S series medium format camera and S series prime lens. Please do not use any of the images within this review without express permission.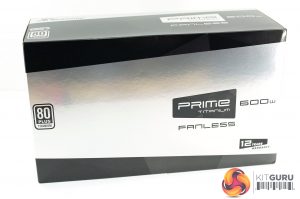 The Seasonic Prime Titanium Fanless 600W power supply ships in a shiny highly reflective box – all to tie in with the 'Titanium' colour. There is a big focus placed on the 12 year warranty, shown bottom right of the box.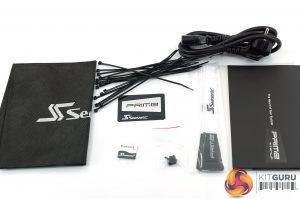 Seasonic include an excellent bundle – a user manual, cable ties, regional specific power cable, stickers, mounting screws and cable storage bag. Exactly what you would expect included with a premium product.
Its a power supply sandwich! Seasonic protect this unit inside a felt bag, and between two thick slabs of foam.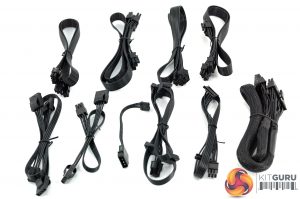 Its a pure modular design so all the cables are supplied in plastic wrap. As noted earlier on this page, Seasonic do supply a little bag to store the cables you are not going to use. All of the cables are ribbon flat design for ease of routing – apart from the main ATX motherboard cable.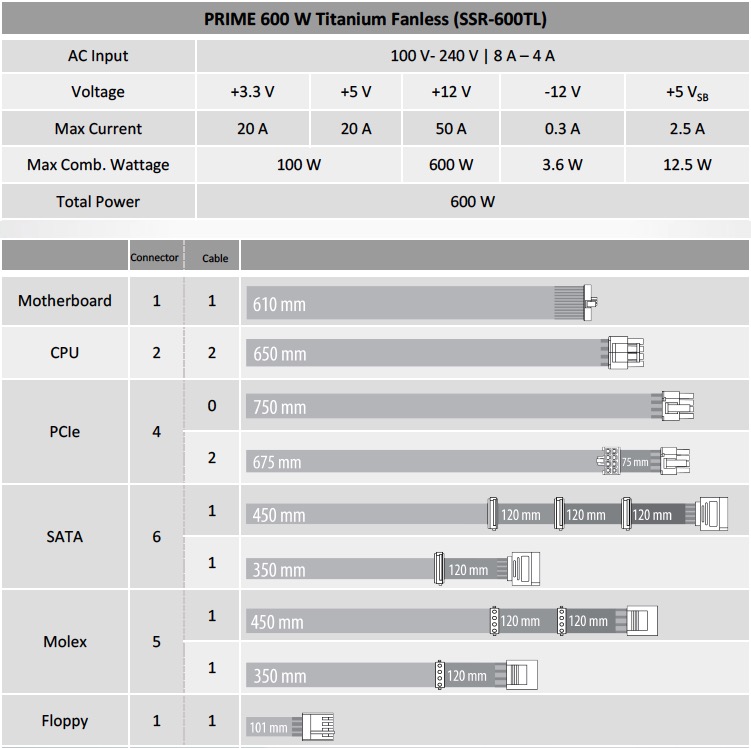 The cable configuration is pretty good – there are 4 PCIe connectors, offering up the option for SLI or Crossfire – if you really wanted to run in that kind of configuration of course. There are 6x SATA connectors and 5x MOLEX connectors. I like the fact there are two CPU connectors included as well.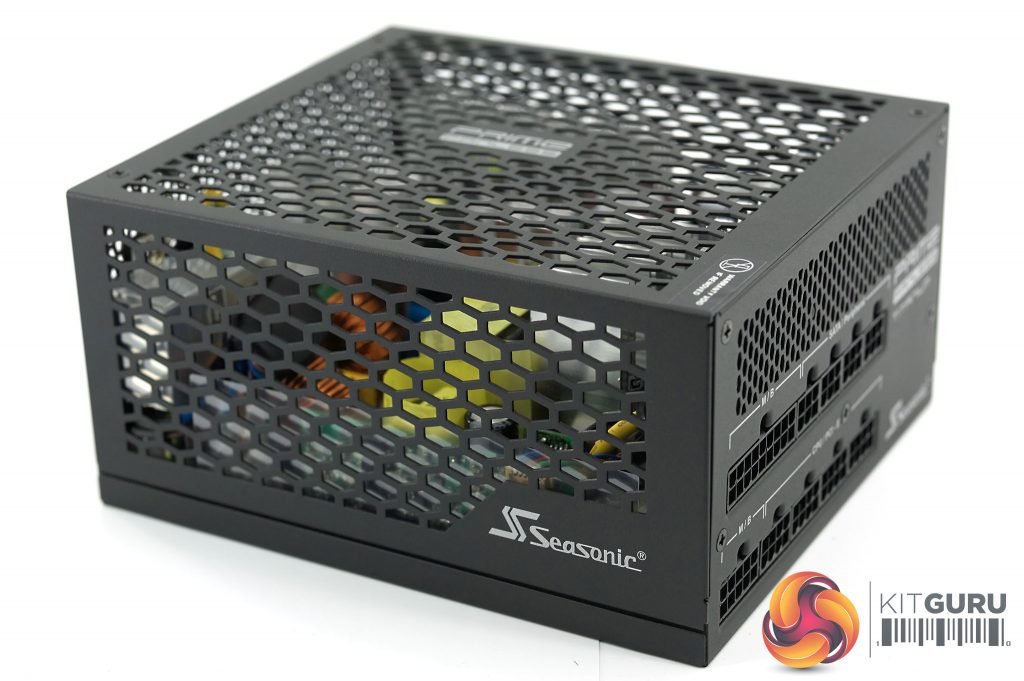 The Seasonic Prime Titanium Fanless 600W power supply is gorgeous in the flesh and very eye catching. The whole chassis is vented to ensure there is plenty of airflow capabilities from all sides. Even the modular panel has a vent above it to ensure warm air can escape.
The power supply measures 170 mm x 150 mm x 86 mm (WxLxH) – so even considering its passively cooled – its physically very compact.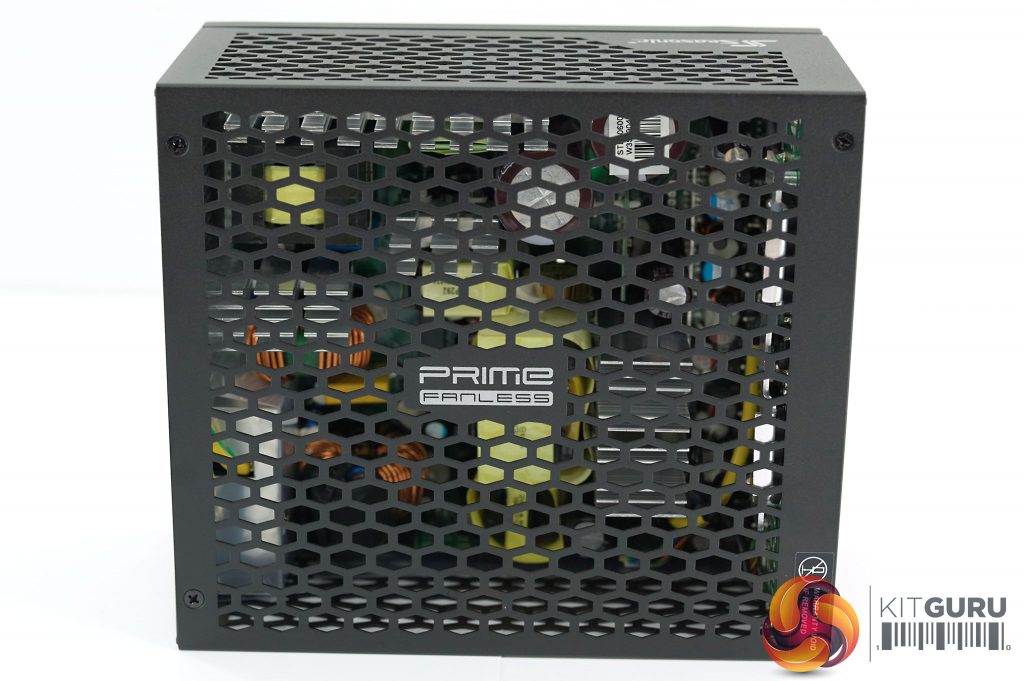 Spot the fan! Ha, got you. The top of the chassis is vented to allow hot air to rise up and out. A 'PRIME FANLESS' badge takes pride of place centerstage here.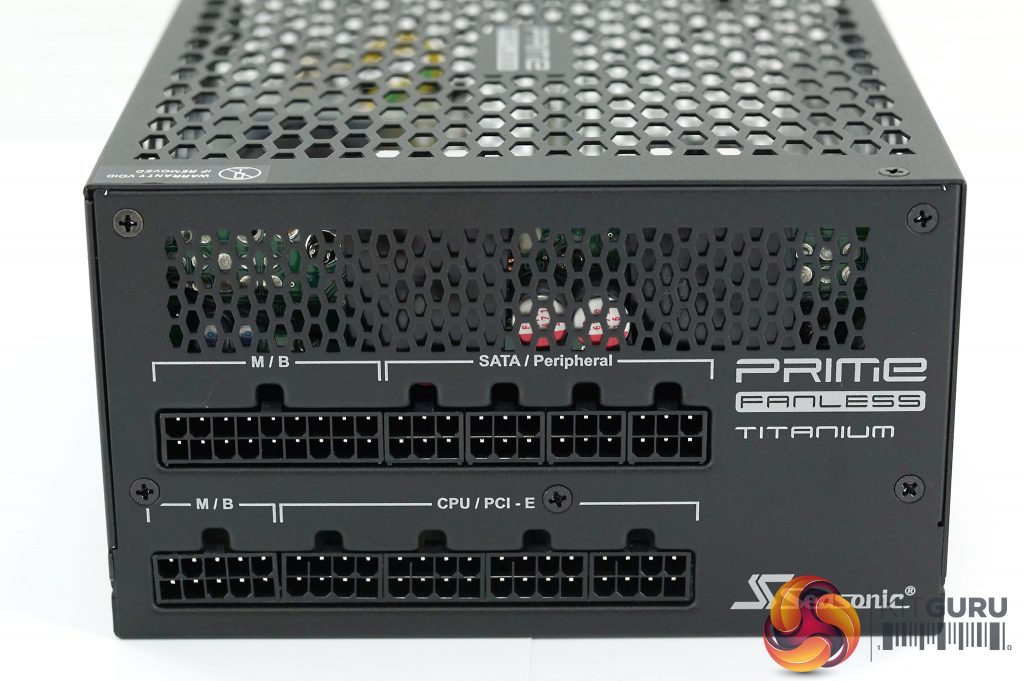 The modular panel is set across two rows. The top row is for the main motherboard connector and the SATA/Peripheral connectors. The bottom row is home to the smaller M/B connector and the four CPU/PCI-e connectors.
It is all clearly labelled and easy to follow during the build phase.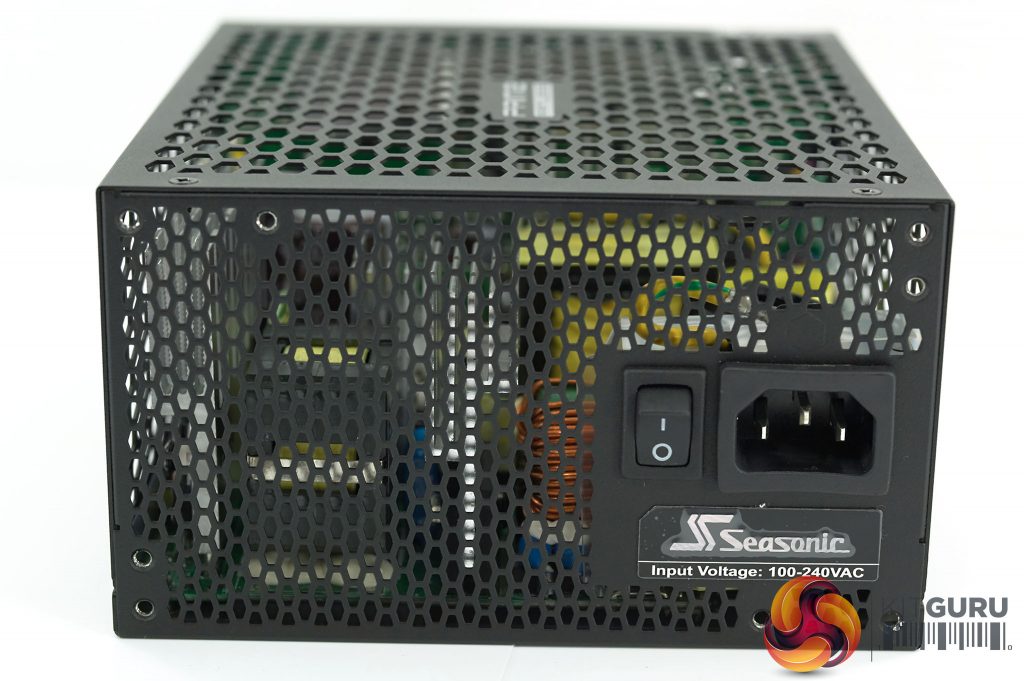 The other side of the power supply is home to the power connector and switch. As with most of the other panels – its completely vented. Don't go spilling your coffee any place close or expect fireworks.
Obviously there is no need for a Hybrid switch on this unit, as it doesn't have a fan. Doh.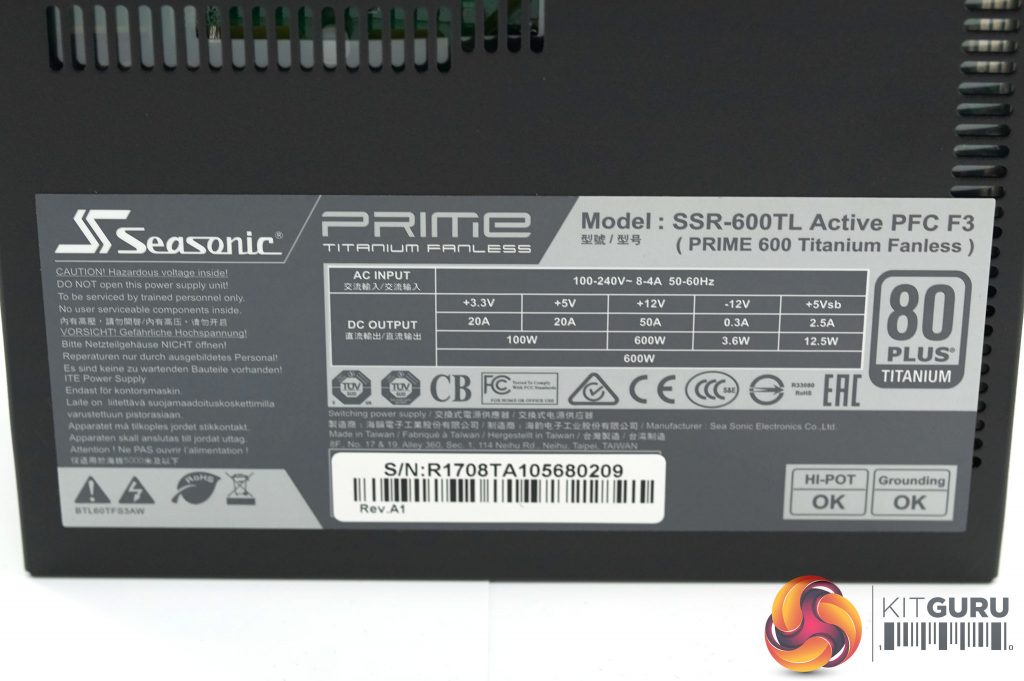 Seasonic Prime Titanium Fanless 600W Power Supply


DC Output

+3.3V

+5V

+12V

-12V

+5Vsb

Max Output

20A

20A

50A

0.3A

2.5A

Total Power
100W
600W
3.6W
12.5W
600W
The Seasonic Prime Titanium Fanless 600W can deliver 50A via the +12V rail which is impressive. The other rails are perfectly fine for a 600 watt unit.
We normally start this page with information on the cooling fan, so lets skip that bit.
If you can't see the image gallery above then you will need to whitelist us or disable your ad blocker – they can interfere with our specialist display code.
The soldering quality inside this unit is excellent, we noted nothing of any concern on the main PCB or modular boards. Even though this power supply is rated at 80 Plus Titanium efficiency levels, we notice four large heatsinks inside – this is clearly to help compensate for the lack of active cooling from above.
As we would expect, Seasonic are using high grade 105c Japanese capacitors throughout the design. They have adopted two 105c rated Nippon Chemi Con capacitors in the primary stage, rated 400v 390uF and 400V 450uF. This gives a total output of 840uF which seems somewhat overspecified to me. I have spoken to Seasonic in the past about their choice of capacitors and they confirm their reasoning is to keep RMA's as low as possible. We all like that.
Additional technical assistance: Peter McFarland and Jeremy Price.
Correctly testing power supplies is a complex procedure and KitGuru have configured a test bench which can deliver up to a 2,000 watt DC load. Due to public requests we have changed our temperature settings recently – previously we rated with ambient temperatures at 25C, we have increased ambient temperatures by 10c (to 35c) in our environment to greater reflect warmer internal chassis conditions.
We use combinations of the following hardware:
• SunMoon SM-268
• CSI3710A Programmable DC load (+3.3V and +5V outputs)
• CSI3711A Programmable DC load (+12V1, +12V2, +12V3, and +12V4)
• Extech Power Analyzer
• Extech MultiMaster MM570 digital multimeter
• SkyTronic DSL 2 Digital Sound Level Meter (6-130dBa)
• Digital oscilloscope (20M S/s with 12 Bit ADC)
• Variable Autotransformer, 1.4 KVA
DC Output Load Regulation

+3.3V

+5V

+12V

+5VSB

-12V

A

V

A

V

A

V

A

V

A
V

75W

0.92

3.34

0.95

5.01

3.90

12.07

0.50

0.20

-12.03

150W

1.60

3.34

1.60

5.01

8.20

12.06

1.00

0.20

-12.03

300W

3.02

3.33

3.10

5.01

21.94

12.06

1.50

0.20

-12.03

450W

4.15

3.33

4.10

5.01

33.56

12.03

2.00

5.00

0.30

-12.03

600W

5.16

3.33

5.30

5.00

45.26

12.01

2.50

0.30

-12.02
Load regulation is class leading – the +3.3V and +5V rails hold within 1% and the +12V rail holds within 2%.
Seasonic Prime Titanium Fanless 600W
Maximum Load
667W
We managed to get 667W out of the power supply before it shut down.
Next we want to try Cross Loading. This basically means loads which are not balanced. If a PC for instance needs 500W on the +12V outputs but something like 30W via the combined 3.3V and +5V outputs then the voltage regulation can fluctuate badly.
Cross Load Testing
+3.3V
+5V
+12V
-12V
+5VSB
A
V
A
V
A
V
A
V
A
V
590W
1.0
3.34
1.0
5.01
46.0
11.99
0.2
-12.01
0.50
5.00
145W
12.0
3.32
15.0
4.99
2.0
12.07
0.2
-12.01
0.50
5.01
This power supply has no problems passing the cross load tests with flying colours.
We then used an oscilloscope to measure AC ripple and noise present on the DC outputs. We set the oscilloscope time base to check for AC ripple at both high and low ends of the spectrum. ATX12V V2.2 specification for DC output ripple and noise is defined in the ATX 12V power supply design guide.
ATX12V Ver 2.2 Noise/Ripple Tolerance

Output

Ripple (mV p-p)

+3.3V

50

+5V

50

+12V1

120

+12V2

120

-12V

120

+5VSB

50
Obviously when measuring AC noise and ripple on the DC outputs the cleaner (less recorded) means we have a better end result. We measured this AC signal amplitude to see how closely the unit complied with the ATX standard.
AC Ripple (mV p-p)
DC Load
+3.3V
+5V
+12V
5VSB
75W
5
5
5
5
150W
5
5
5
5
300W
5
5
10
5
450W
5
5
10
5
600W
5

10
15
5
Ripple suppression is stellar, maintaining a position within the top couple of percent of units we have tested in the last 2 years.
Efficiency (%) 230V


75W

92.35

150W

94.45

300W

96.12

450W

94.69

600W

93.46
Efficiency peaks at just over 96 percent at 50% load, which is a fantastic result. At full load the efficiency drops to 93.46 % which is again, very impressive.
We take the issue of noise very seriously at KitGuru and this is why we have built a special home brew system as a reference point when we test noise levels of various components. Why do this? Well this means we can eliminate secondary noise pollution in the test room and concentrate on components we are testing. It also brings us slightly closer to industry standards, such as DIN 45635.
Today to test the Power Supply we have taken it into our acoustics room environment and have set our SkyTronic DSL 2 Digital Sound Level Meter (6-130dBa) one meter away from the unit. We have no other fans running so we can effectively measure just the noise from the unit itself.
As this can be a little confusing for people, here are various dBa ratings in with real world situations to help describe the various levels.
KitGuru noise guide
10dBA – Normal Breathing/Rustling Leaves
20-25dBA – Whisper
30dBA – High Quality Computer fan
40dBA – A Bubbling Brook, or a Refrigerator
50dBA – Normal Conversation
60dBA – Laughter
70dBA – Vacuum Cleaner or Hairdryer
80dBA – City Traffic or a Garbage Disposal
90dBA – Motorcycle or Lawnmower
100dBA – MP3 Player at maximum output
110dBA – Orchestra
120dBA – Front row rock concert/Jet Engine
130dBA – Threshold of Pain
140dBA – Military Jet takeoff/Gunshot (close range)
160dBA – Instant Perforation of eardrum
Noise (dBA)

75W

<28.0

150W

<28.0

300W

<28.0

450W

<28.0

600W
<28.0
The graph above gets me excited – almost the same experience I had watching Gal Gadot in Wonder Woman a few weeks ago. Both are quite beautiful in their own individual way.
Temperature (c)

Intake

Exhaust

75W

35

43

150W

35

49

300W

37

55

450W

41

62

600W

44

69
As this is passively cooled the temperatures are a little higher than most of the units we have reviewed in recent months. Still perfectly fine however.
| | |
| --- | --- |
| Maximum load | Efficiency |
| 667W | 92.4 |
At 667 watts, the efficiency rating drops to 92.4%. Not a realistic situation to be running at all the time but interesting nonetheless.
Seasonic PRIME shows no signs of slowing down this year and it would be fair to say that they have ended the year on one of the best highs of their manufacturing career. There is no doubt in my mind that the Prime Titanium Fanless 600 Watt unit is one the finest power supplies I have analysed since KitGuru formed almost a decade ago.
Seasonic invest a great deal of engineering ingenuity into their PRIME supplies, but the architecture of a power supply faces a more hostile environment when there is no direct cooling over the components inside. This is probably why Seasonic have appropriated years between the release of their last passively cooled solution and the Prime Titanium Fanless 600 watt we are reviewing today.
Boy has it been worth the wait. They even managed to keep the physical size down which is the icing on the cake.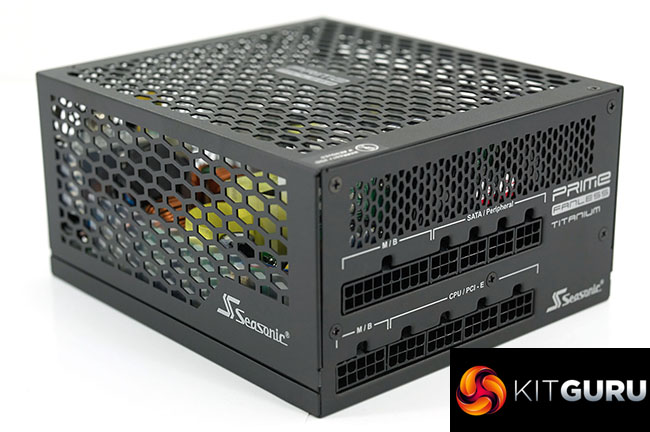 I don't like fan noise. I can't say I ever have. As I have gotten older my tolerance for whirring fans has increasingly waned. Sure, you can say that you can mask the noise by wearing headphones, or by blasting speakers. But what if you don't want to wear headphones, and aren't gaming in the first place. I don't mind wearing noise cancelling headphones on a train, but in my own home while working on my system? No thanks.
The power supply is the lifeforce of any system, whether gaming or otherwise. Getting the core of the system build started without the need for a fan just really turns me on, even before I make moves on the other components.
What does the Seasonic Prime Titanium Fanless 600 watt power supply bring to the table? With careful selection and high grade watercooling, it would be possible to build a powerful gaming rig that emits little, if any noise. A quality 600 watt power supply such as the Titanium Fanless would be able to handle a watercooled GTX 1080ti build without running into load problems.
After I completed the technical analysis for this review I actually tested the power supply with an Nvidia Titan X, overclocked Intel i7 7700k, 16GB memory, 1TB SSD — and after two hours of gaming the power supply was only warm. The fact I knew this power supply could easily deliver 600 watts sustained for a long time was always in the back of my head.
Technically this unit is bulletproof – load regulation is stellar, noise suppression is class leading and efficiency peaks at over 96% between 45-60% load. Its compact, doesn't produce any noise and is built to the highest standards, with 105c Japanese capacitors used throughout.
So the only issue I can possibly mention would be the price. In the United Kingdom it costs £199.99 inc vat. This is about the same price as a 1000 watt Platinum modular power supply. There can be no argument that is is expensive.
I can say that if I was buying a power supply for a new system, this Titanum Fanless 600 watt unit would be at the very top of my shortlist. Its powerful enough to handle a high end gaming system or workstation and it produces no noise and very little heat due to the extraordinarily high efficiency.
The Seasonic Prime Titanium Fanless 600 watt is a dream power supply targeting a niche audience. If you happen to be in this audience its been a long time coming – and with the class leading 12 year warranty Seasonic are ensuring no one should have any concerns about longevity.

Buy from Overclockers UK for £199.99 Inc Vat HERE.
Pros:
12 year warranty.
It's completely silent.
great build quality.
neutral colour scheme.
fully modular.
105c Japanese capacitors throughout.
physically very compact.
comprehensive bundle.
Cons:
It's quite an investment.
Kitguru says: This is a stunning, silent power supply that excels in every possible way. Its expensive, but it ticks every box in my list and delivers clean, stable power covered by a class leading 12 year warranty. I have already bought one myself. It is my product of the year 2017.