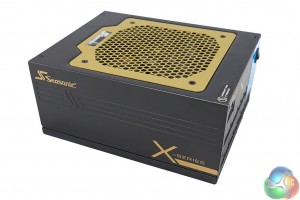 This range of X-Series power supplies is finished with gold accenting on the sides and fan grill. The gold colour has received a mixed reception with our readership because it doesn't always match a colourscheme in a system build.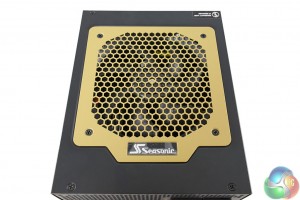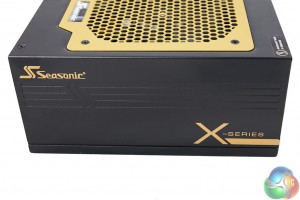 The fan is barely seen behind the gold grill, but we will take a closer unit at it, when we open the unit shortly.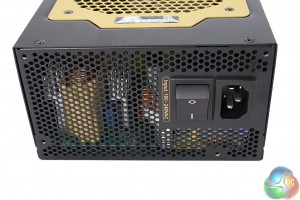 One side of the power supply is fully vented to help air flow. At the side is a power switch and connector.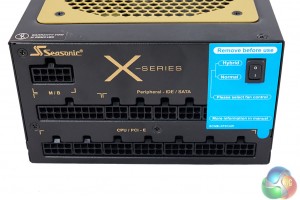 There are several rows for the modular connectors and Seasonic have labelled them clearly to aid with the build phase. There is a sticker on the right which indicates the dual switch operation of the fan – hybrid and normal. You should remove this sticker before installing the unit.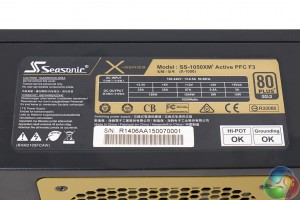 The new model is highlighted by the name 'SS-1050XM2′. If you are buying this power supply make sure you check first that it is the newer XM2 model – Seasonic don't highlight this clearly on their box which makes matters more confusing. A simple, yet easily seen 'XM2' sticker on the box would help.
Seasonic X-Series 1050W XM2

DC Output

+5V

+3.3V

+12V

-12V

+5Vsb

Max Output

25A

25A

87A

0.5A

3A

Max Combined
150W
1044W
6W
15W
The only difference between this unit and the more powerful X-Series 1250W XM2, is the A delivery on the +12V. The 1250W unit can handle up to 104A, the 1050W model 87A.