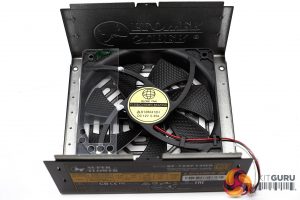 The fan inside the Super Flower Leadex III Gold 750W is a fluid dynamic bearing model from Globe Fan (S1282412H) rated 12V 0.35A. It is 128mm X 128mm X 24mm. dBA : 40.8 dB. CFM 78.06. A partial plastic cover is placed on the left side of the fan to forcibly direct airflow over the components underneath.

Below - a High Resolution Gallery of the internal layout of the Power supply.
If you can't see the image gallery above then you will likely need to white list us in your ad blocker as they are known to interfere with our display code.
Super Flower's platform is using LLC resonance conversion in the primary stage and DC-DC downward conversion for the +3.3V and +5V rails. This independent voltage regulation ensures that the output voltages always remain close to the set point, even when the loads are tricky, such as asymmetrical. Leadex like to make a point that this platform is good for demanding system builds, included those that are overclocked.
We can see that Superflower are not compromising with the quality of their electrolytic & solid polymer capacitors on both primary and secondary stages, as they have adopted Japanese brands throughout from Nippon Chemi Con and Nichicon. The two primary capacitors are from respected Japanese manufacturer Nippon Chemi Con (KMR series) – both rated 105c @ 400V 330uF, for a combined healthy 660uF capacity. Nippon Chemi Con are some of the finest capacitors on the market in my long term findings over the years.
The soldering on the PCB board is also very high grade, and it is clear Superflower are confident their overall design is efficient, as there is really only one major heatsink on the board.