The Super Flower Leadex platform has always been one of the best on the market –  delivering high quality power at affordable price points. The third iteration of the platform is fully modular, has a 7 year warranty, a 135mm high grade fluid dynamic bearing fan and is 80 Plus Gold Certified.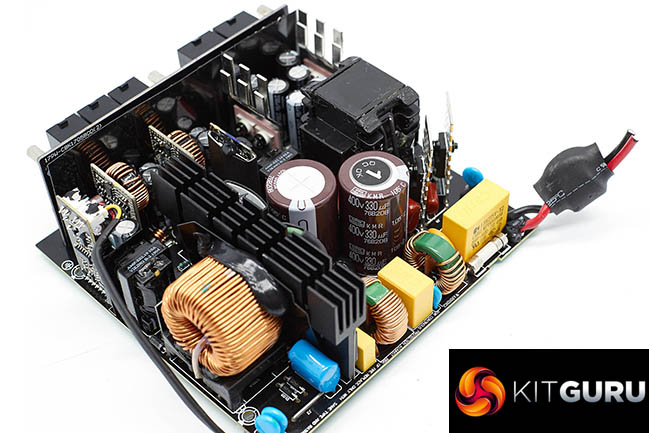 Technically, there is no doubt this is a solid, high performance power supply. Super Flower's platform is using LLC resonance conversion in the primary stage and DC-DC downward conversion for the +3.3V and +5V rails. It proved most effective in our analysis over the last week. Superflower have adopted 105c Japanese capacitors in the design from companies such as Nippon Chemi Con and Nichicon on both primary and secondary stages, ensuring long term stability under demanding situations.

Our results highlight no noticeable weaknesses. It passed our cross load tests with ease, and delivered great stability. Load regulation is solid, falling within 1.5% of reference specifications. Noise suppression proved stellar, peaking at 10mV on the +3.3V and +5V rails under full load with the +12V rail at 20mV under the same conditions.
The Super Flower Leadex III Gold 750W unit managed to deliver over 830 watts of power before it shut down safely and we managed to run it steady at 800 watts for some time without any issues. Not something you would want to do on a regular basis mind you, as it is well outside the maximum efficiency range.

You can buy the Super Flower Leadex III 750W unit from Overclockers UK for £99.95 inc vat HERE. At this price point it offers great value for money.
Pros:
Can deliver over 800 watts sustained.
High grade 105c Japanese Nippon Chemi Con and Nichicon capacitors.
over 92% efficiency.
dual 4+4 pin CPU connectors.
7 year warranty.
135 Fluid Dynamic fan is quiet.
3 fan mode settings.
Cons:
A lot of competition around £100.
The box looks like one for a toaster in Curry's.
KitGuru says: The Super Flower Leadex III Gold 750W power supply performed well in our tests, achieving over 92% efficiency and proving rock solid, even when delivering 800 watts of power.