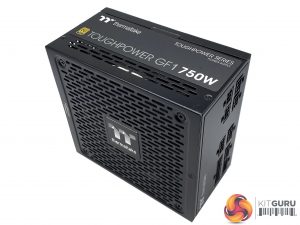 The Thermaltake power supply is actually quite nicely finished. The paintwork is reasonably thick and withstands fingerprints and surface scratches well.

That said, I am not a fan of the thick stickers on the sides – quality silk screening would look much nicer. I had to remove some of these stickers to get the unit open and it made quite the mess. This is obviously not something the end user will (or should) be doing, however when I see a power supply coated in thick non replaceable stickers, it doesn't give me a great feeling. Stickers can start to peel away from the surface underneath.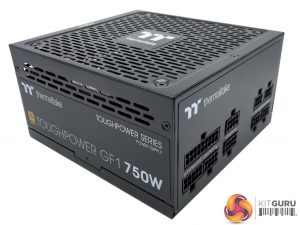 The side panels have little cuts in the metal work, to allow air to flow. The power supply measures 150 mm x 86 mm x 160 mm (WxHxD).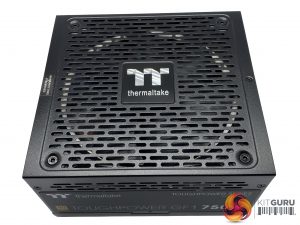 We can see the fan hidden behind a large metal grille on the top of the chassis. We will get a closer look at this fan when we open the chassis shortly to look inside.
One side of the power supply is vented to allow for air flow. Alongside a power button, power slot and 'smart zero fan' button. The modular bay is clearly labelled and split across 2 rows.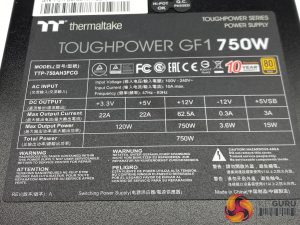 Thermaltake ToughPower GF1 750W PSU

DC Output

+3.3V

+5V

+12V

-12V

+5Vsb

Max Output

22A

22A

62.5A

0.3A

3.0A

Total Power
120W
750W
3.6W
15W
750W
The Thermaltake ToughPower GF1 750W delivers 62.5A on the +12V rail, for 750W of the power output.