The Thermaltake ToughPower GF1 750W power supply has proved quite successful in our tests this week. Its not a groundbreaking power supply by any measurement, but it is capable of holding a steady maximum rated 750 watt load without any issues.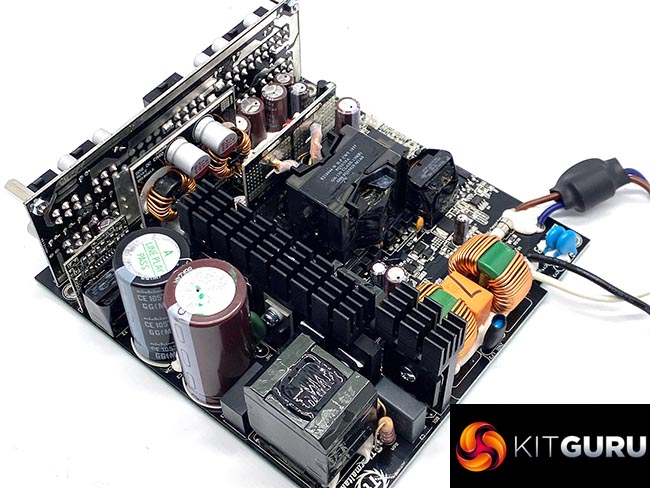 Technically the unit delivers quality power, holding a decent delivery, even under higher load situations. There is a little droop apparent on the +12V rail under certain load situations but it does not pose any problems in real world conditions.
The use of high grade Japanese capacitors throughout is reassuring. I was pleased to see a combination of 105c Nichicon and Nippon Chemi Con used as primary hold up capacitors, along with some quality caps on the secondary stage. Thermaltake have not cut corners in this regard, which is positive to note.
Aesthetically, it is not a bad looking power supply. I am not impressed with the abundance of thick side stickers. I would much rather have some nice silk screening on the panels, however I appreciate this is to keep the costs down a little. It is after all an 80 Plus Gold power supply, so hitting a sub £100 price point will certainly be a discussion point.
This actually leads me nicely into something I noticed early on in this review about this particular family of power supplies. If we take a look at the new range of Toughpower GF1 power supplies on SCAN over HERE we can see that Thermaltake are selling ARGB and NON ARGB versions.
When I was offered this power supply I specifically asked for the non ARGB version. I appreciate a lot of people enjoy RGB features, but I would certainly not be willing to pay £35 extra for this. The ARGB version of this power supply is £134.99 (HERE), and this review sample today without RGB is priced at £99.98 (HERE). I checked with Thermaltake, and the only difference is the RGB fan.
There are some alternatives on the market right now. If you are trying to cut as much cost as possible, then the £75 700W Kolink Enclave 80 Plus Gold unit deserves some consideration (KitGuru review HERE). You save £25, but its worth pointing out that you do not get Japanese capacitors, or even a power cable. If you factor in £5 for a power cable, then personally I would feel that investing £20 into high grade 105c Japanese capacitors is a wise move.
Pros:
Fully modular.
Japanese capacitors throughout.
decent finish.
very competitively priced.
10 year warranty.
technically capable.
Cons:
not a fan of the thick stickers on the side panels.
fan can get a little irritating at higher loads.
Kitguru says: The Thermaltake Toughpower GF1 is a solid purchase at just under £100. We are not sure the ARGB fan version makes a lot of sense as it increases the price by £35 – pushing it firmly into Seasonic territory.