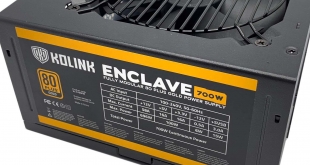 Today we take a look at a new 80 Plus Gold Series power supply from Kolink. The company told us that the three power supplies in this family are strictly focused on competitive pricing while still delivering high quality power. These new supplies are fully modular, single rail, 80 Plus Gold rated and are equipped with a rifle bearing fan.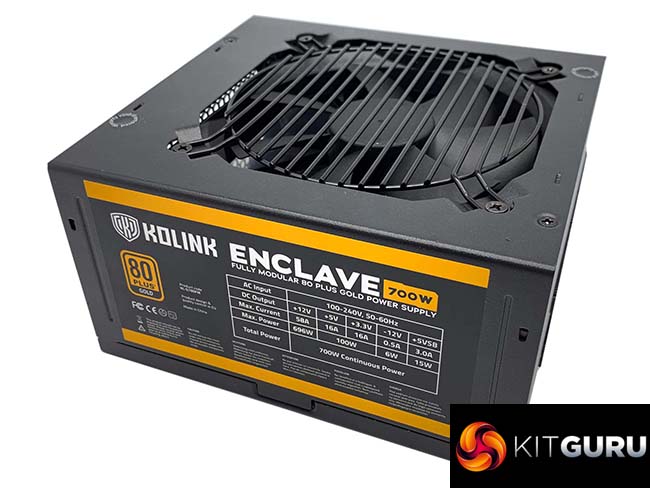 Kolink have released three models in this family, a 500 watt, 600 watt and 700 watt model, the latter of which we review today. There is a limited 3 year warranty with the units, rather than the more substantial 10 or 12 year warranties offered by companies such as Corsair and Seasonic.
Kolink told us that these power supplies are a custom made, newly designed platform, based around an LLC resonant converter with DC-DC secondary. This is rather unusual as most companies would work with an OEM such as FSP or Great Wall and use an already developed design then make minor modifications to suit their own desires and price points.
Technical Details:
Dimensions: 150 x 86 x 160 mm (W x H x D)
Fan: 120 mm (automatic regulation, rifle-bearing fan)
Colour: Black (PSU, fan)
Efficiency: min 90/87/87 percent at 50/20/100 percent load on European 230 Volt network. Meets requirements for 80 PLUS Gold.
Active PFC
Form factor: ATX 12V V2.31
Output: 700W
+3,3V: 16 A
+5V: 16 A
+3,3V and +5V combined: 100 W
+12V: 696 W / 58 A
-12V: 6 W / 0,5 A
+5Vsb: 15 W / 3 A
Safety:
OVP/UVP (protection against over- and undervoltage)
SCP (short circuit)
OPP (overload)
OCP (over-current protection on +12, +3,3 and +5 Volt rails)
Manufacturer's guarantee: 3 Years