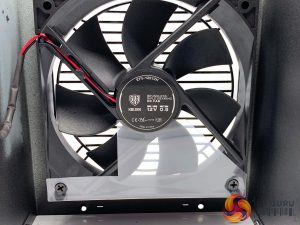 Kolink are using a brushless rifle bearing fan (Model EFS-12E12H). I have actually seen this fan before and while its not clear in the picture, its actually made by Chinese company EVERCOOL.

The fan in the other power supply I tested failed after 2 months of use and I spoke with industry contacts from Taiwan and they told me these fans cost $0.80 to produce and have very high fail rates. I can't confirm or deny this, but my own experience of a failure would give me some caution.
This Kolink developed design is using Teapo capacitors, a cost effective Chinese brand I have had bad experiences with in the past. Some people have told me their engineering processes are improving all the time, and to be honest at this price point I had certainly not expected to see Japanese capacitors inside the power supply. The primary hold up capacitor is at least rated 105c (rather than 85c) – 420v 560uF. Kolink told me that may rotate between Teapo and Elite capacitors with 'no guarantee between the two'.
Enclave uses solid state capacitors for output filtering for +3.3V, +5v and +12V. While the 8 Pin Sitronix ST9S313-DAG IC only offers housekeeping (timings) and basic protections, Kolink adapted its circuit design (DC-DC VRM) so there is also OCP for +3.3V and +5V. I would have expected a few more heatsinks populated across the PCB, but we will test it shortly to see if we run into any problems.