The Kolink Enclave 80 Plus Gold 700W has been designed from the ground up to offer good quality power at a very cost effective price point. All considered, we feel its a good option for people on a strict budget.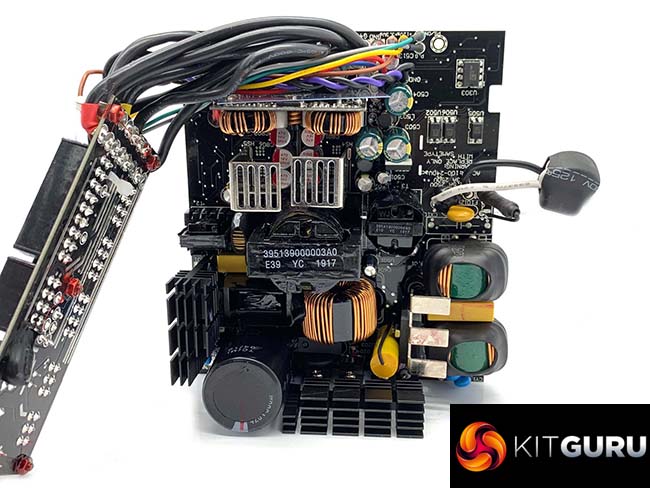 As we mentioned earlier in the review today, there are three supplies in this range – a 500 Watt, 600 Watt and 700 Watt unit. They are priced at £59.99, £64.99 and £74.99 respectively. When we look at other (750W) Gold rated units from companies such as Seasonic they are around £30-£50 more expensive. There is no doubt these are some of the most inexpensive power supplies you can buy today.
Technically the 700W model is solid enough, if somewhat uninspiring. Kolink are using cheaper capacitors from the likes of Teapo and Elite – although at least they are 105c rated rather than the even cheaper 85c caps they could have used.
Load regulation seems fine, and efficiency falls in line with what we would expect from a budget 80 Plus Gold unit. We didn't run into any issues during testing, or weird and unusual failures. The power supply was able to sustain a 700 watt load for an extended period of time without shut down.
Ripple suppression also fell in line with industry tolerance levels, although at full load we did record around 70mV from the +12V rail, which is higher than any other power supply we have tested this year. Its not indicative to a failure mind you, so we won't flag it as a concern.
To keep costs down Kolink have opted not to include any literature or user manual with the power supply. There is also no fancy bundle, cable ties, or stickers. You don't even get a power cable. It is only the latter point that gives me a little concern. In my mind this power supply (or even the less expensive 500W or 600W model) would be ideal for a very budget, first system build. Those people will buy the power supply, build their system and likely realise they have no way to power it up. They will need to go online and buy an IEC power cable. OCUK have a Kolink C13 power cable in stock for £2.99 HERE.
The fully modular design will appeal to a wide audience wanting to build a compact, cost effective system, perhaps even with a windowed panel. Although I mentioned my personal concerns over the choice of cheap Evercool Rifle bearing fan, this Kolink power supply isn't very loud under most load situations. I would have some concerns over fan longevity having had one fail before in another power supply I tested some time ago.
You can buy the range of Kolink Enclave power supplies from OCUK over HERE. The 700 Watt model I reviewed today is available HERE for £74.99. Just remember to buy the IEC C13 power cable as well, if you don't have one on hand.
Pros:
Quality of finish is good.
Fully modular.
Not too loud under load.
load regulation.
105c capacitors.
Cons:
No power cable supplied.
no literature, cable ties, or any extras.
cheap rifle bearing fan.
+3.3V and +5V rails are quite weak by competitors standards.
no Japanese capacitors.
3 year warranty.
KitGuru says: This is a no frills power supply targeting the budget audience. Technically it is a solid design and offers good value for money for those on a tight budget.