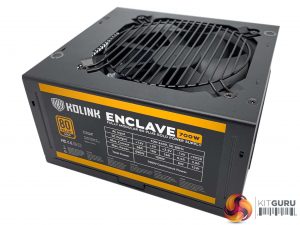 The Kolink Enclave is actually quite nicely finished. The paintwork is reasonably good, and there are no sharp or scuffed edges around the chassis as might be expected considering the budget price point. The yellow sticker isn't going to conflict too much with a coloured system build. Although we expect many users will be hiding the power supply under a shroud in 2019. This sticker can be removed anyway if desired.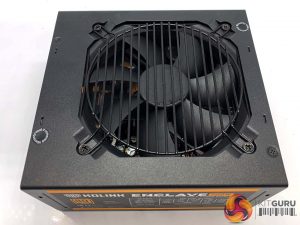 A large fan is hidden behind a metal grille on the top – we will take a closer look at the fan later in the review when we open the chassis.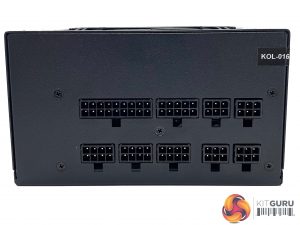 One side of the power supply is home to the modular bay, which is not labelled or very attractively finished compared to some of the higher end units we have tested recently, It is however pretty fool proof considering the pin layouts are different depending on the cables you want to attach.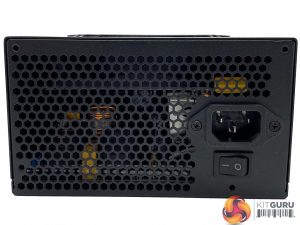 The other end of the chassis has the power connector and switch in position, alongside a big honeycomb panel to aid air flow.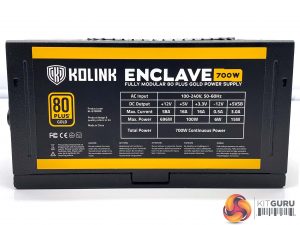 Kolink Enclave 700W Power Supply

DC Output

+3.3V

+5V

+12V

-12V

+5Vsb

Max Output

16A

16A

58A

0.5A

3A

Total Power
100W
696W
6W
15W
700 watts
The Kolink Enclave 80 Plus Gold 700W is able to deliver 696W / 58A to the +12V rail. We noticed the +3.3V and +5V rails seem a bit weaker than other power supplies with a similar power output, delivering only 16A to both. The bequiet! U9 Pure Power 700W for instance which we reviewed earlier this year can deliver 24A to the 3.3V and 18A to the 5V (130W total compared to 100W for this unit).
The FSP Dagger Pro 650W which I reviewed back in July, can deliver 20A to the +3.3V and 22A to the +5V – despite having a 50w lower power output rating than the Kolink.