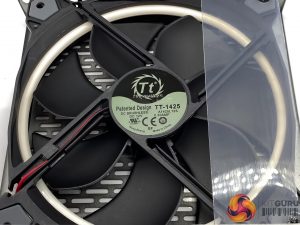 Thermaltake are using an 'ultra quiet Hydraulic Bearing fan'. Its 140mm with the model number 'TT-1425' on the sticker. You can actually buy these fans for £4.99 (HERE). Maximum Air flow is rated 1000 rpm – rated 12V 0.30A.

It can push a maximum of 60CFM of air with noise at 20dBa. There is a small section of clear plastic to direct air flow over specific parts of the power supply underneath. Fan life is rated at 120,000 hours MTBF.
Below a gallery of the insides of the power supply
(if you cannot see this gallery you need to whitelist us in your
ad blocker as they can interfere with our display code).
Thermaltake are using CWT as their OEM partner for this particular power supply. Its a pretty tidy looking design and I am happy to see that they are using Japanese capacitors in both primary and secondary stages.
The primary hold up caps are both high grade 105C Japanese models from Nippon Chemi Com (KMR series) and Nichicon – rated 400v 470uf and 400V 390uF respectively. Companies will often mix and match capacitors from specific families depending on what is available. This does not pose any concerns – it is good to see Thermaltake ensuring that high grade capacitors are being used throughout.
Soldering quality on the main PCB is pretty good overall although I was expecting to see a couple more heatsinks in place across the PCB, especially considering the somewhat efficiency
The power supply offers OCP, OVP, UVP, OPP, SCP and OTP.