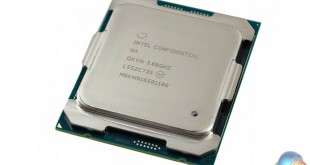 Intel's decision to skim over "Broadwell" CPUs on the mainstream LGA 115x platform meant that prior to today, the High End Desktop Platform (HEDT) was 2-generations behind the mainstream, and in need of a revamp.

The latest architecture from Intel, "Skylake", has been with us since August 2015 on the mainstream platform but HEDT users have had to "make do" with Haswell-E since August 2014. Today Intel reduces the architectural gap back to 1 generation with Broadwell-E.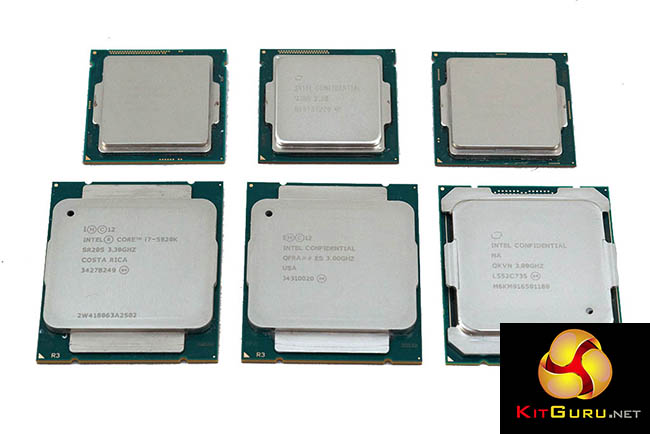 Broadwell-E is significant because Intel has decided to properly deploy the Broadwell architecture for the enthusiast audience. Broadwell for the mainstream desktop platform saw just two releases, the Core i7 5775C and Core i5 5675C, both of which were 65-watt parts with bolstered Iris Pro 6200 graphics.
Neither mainstream Broadwell part was marketed at the enthusiast audience and both parts failed to gain traction due to the lofty price compared to the i7 4790K and the fact that when released in June 2015, Skylake's i7 6700K was just 2 months away. That said, both are fully unlocked and overclockable parts that can be paired up with Z97 motherboards – even if overclocking headroom is somewhat limited.
Broadwell-E in its full-fat enthusiast form arrives with four different processors at launch, three closely mirroring previous generation parts and a new chip. The Intel Core i7 6800K replaces the Core i7 5820K which was the "bang for buck" processor of the Haswell-E generation. The i7 6850K is the successor to the i7 5930K, the processor of somewhat dubious appeal – it's only real advantage over the aforementioned CPU is 40 PCIe 3.0 lanes instead of 28.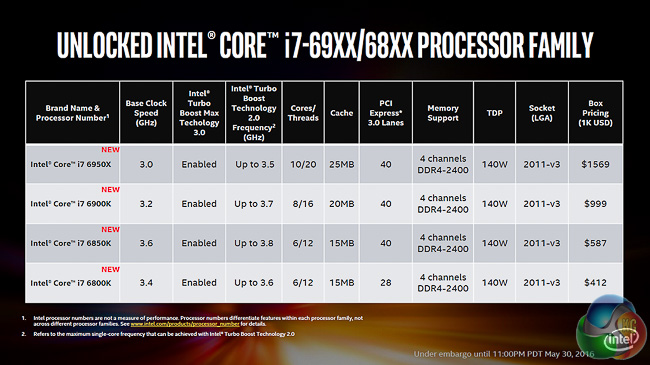 Next up is the Core i7 6900K which is the spec-sheet replacement for the i7 5960X as it boasts the same price point, $999, and the same octa-core design. The new part is the flagship Intel Core i7 6950X – a deca-core, fully unlocked and enthusiast-grade Broadwell-E part. An Intel Xeon-level price point of $1,569 is sure to make the i7 6950X significantly more exclusive than last generation's flagship i7 5960X.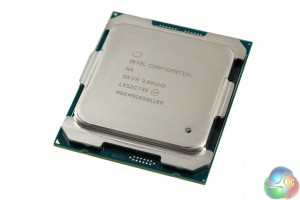 In for review at KitGuru is the top-flight Intel Core i7 6950X CPU which, while out of reach for most, will give you an idea of what Intel's Broadwell-E platform is capable of. However, in the near future KitGuru will endeavour to review the sweet-spot Core i7 6800K CPU.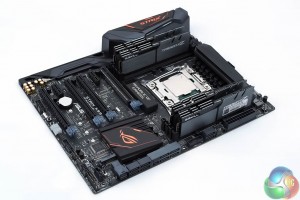 In physical terms the i7 6950X conforms to the same LGA 2011-3 socket as the i7 5960X, this means it'll support all X99 motherboards on the proviso that motherboard vendors roll-out BIOS updates for Broadwell-E CPUs. At Broadwell-E's launch motherboard vendors have already refreshed or introduced many new X99 models, for our review we'll be working on the ASUS ROG STRIX X99 Gaming motherboard that we previewed a few weeks back as well as G.Skill's Trident Z 3200MHz DDR4 memory.