The front of the PNY CS2211 box has the drives capacity clearly labelled while the rear of the box has a small specification and performance panel and some marketing text in four languages.

There's not much inside the box, just a 2.5mm spacer to aid the fitting of the drive into a 9mm bay of the larger format notebooks.
PNY's CS2211 is built on a 2.5in, 7mm format measuring 100× 70× 7 mm and weighing in at a mere 45g. If drive aesthetics are your thing then the CS2211 won't disappoint as its looks quite striking.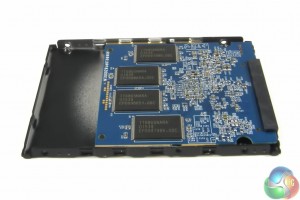 The chassis is of the 'clipped together' type so it needs a little gentle persuasion with a small screwdriver to get the chassis apart. Beware though, doing this voids your warranty in one fell swoop. The PCB of the 240GB version of the CS2211 fills around three quarters of the enclosure.
One side of the PCB holds four NAND packages of Toshiba 15nm MLC NAND while on the flip side there are another four NAND packages, the Phison PS3110-S10C controller and a 256MB Nanya DDR3L-1600 chip which takes care of the cache duties.
Phison's PS3110-S10 is a 8-channel quad core controller built on a 55nm process. It supports MLC/TLC NAND and has static and dynamic wear-leveling built in as well as support for end-to-end data path protection.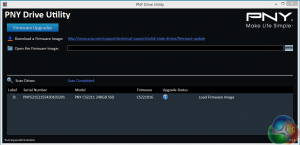 Compared to many of its competitors PNY are a fair way behind with the software support for the drive. At the time of writing the only software supporting the CS2211 is PNY's Drive Utility which has just one function – namely to easily enable firmware updates for the drive.