Intel has been pushing its storage division quite a bit this year. Not only have we seen the launch of Optane Memory and new SSDs based on that but today, Intel has unveiled its new SSD form factor dubbed 'The Ruler'. This new extra long SSD is designed to bring petabyte (1,000TB) capacities, while also reducing power and the amount of cooling required.
Right now, SSDs come in a few standard form factors, you get 2.5-inch, 3.5-inch, M.2 and from time to time, a PCIe SSD comes along. However, these form factors are still fairly limited in capacity. With the 'Ruler' design, Intel wants to bring 1PB (petabyte) capacity in a form factor compatible with a 1U server rack.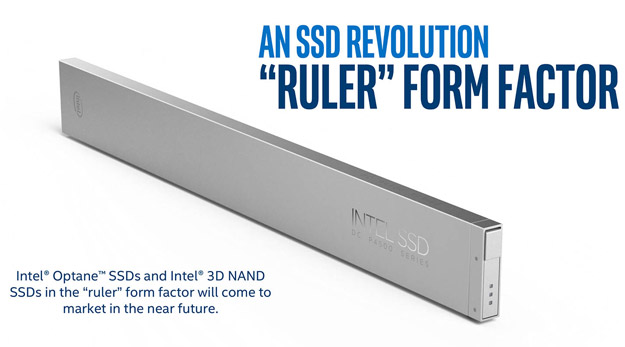 Bill Leszinske, Intel's VP of its Non-Volatile Memory Solutions Group, had a few things to say about the new Ruler design: "We are in the midst of an era of major data center transformation, driven by Intel. These new "ruler" form factor SSDs and dual port SSDs are the latest in a long line of innovations we've brought to market to make storing and accessing data easier and faster, while delivering more value to customers".
By using 3D-NAND, the ruler can reach higher capacities and provide a lower chance of failure/data loss. In all, this SSD will have more bandwidth and lower latency than SAS alternatives, which are often used in data centres. Right now, the Ruler has no set release date but Intel wants to begin rolling it out before the end of this year.
In other news, Intel also announced today that it will be launching its 8th generation Core processors later this month, with planned availability in the holiday season.
KitGuru Says: The last 24 hours has been filled with Intel news. The company has certainly been keeping us busy with all of these announcements. What do you all think of the new Ruler SSD design?