The MX500 ships in a typical looking Crucial box with a large clear image of the drive on the front. Above the image on the right hand side of the box is listed what family the drive is from. On the bottom left hand corner of the box you will find the drives capacity.
The rear of the box lists what's in the box; a 7mm – 9mm spacer, a sticker informing of the 5-year warranty and an icon representing data transfer software. The data transfer software in question is Acronis True Image for Crucial which can be downloaded via the url on the back of the box and inside the Get Started guide.


The MX500 is built on a standard 2.5in, 7mm format using an aluminium enclosure held together with two screws in each side of the enclosure.

The 500GB version of the MX500 has all the components on one side of the PCB.

There are eight packages of Micron 256Gb 64-Layer 3D TLC NAND carrying the FBGA code of NW912 which, when entered into Micron's FGBA decoder gives a model number MT29F512G08EEHAFJ4-3R:A.
For cache duties there is a 512MB Micron DDR3L-1866MHz IC. Sitting above the cache IC is the four-channel Silicon Motion SM2258 controller. The SM2258 uses a 32-bit RISC CPU and supports 1z nm TLC and 3D MLC / TLC NAND.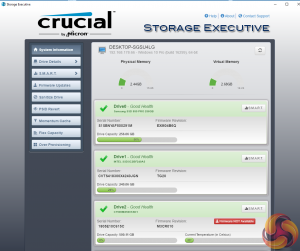 Crucial's SSD management utility goes under the name of Storage Executive.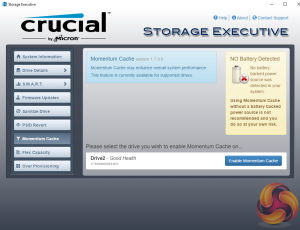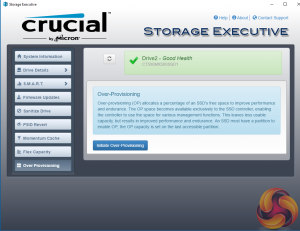 Storage Executive is a pretty comprehensive SSD tool kit. With it you can check the drive's S.M.A.R.T data, update the firmware, see how the drive's capacity is being used, monitor the drive's operating temperature and overall health, reset the encryption password (if supported), adjust the Over Provisioning and enable the Momentum Cache feature. There's no integrated data migration tool but the separate Acronis True Image download takes care of that.