CrystalDiskMark is a useful benchmark to measure theoretical performance levels of hard drives and SSD's.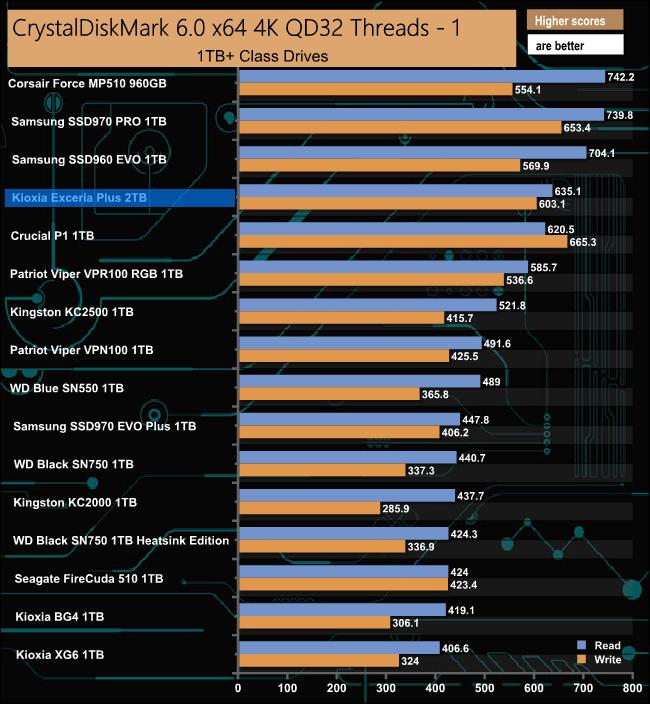 As you might expect from a drive aimed at the upper end of the market, the Kioxia Exceria Plus performs well at a deeper queue depth. From looking at the two benchmark result screens, it seems that the controller has a preference for handling compressible data. Using this type of data sees a boost in the 4K read performance at low to mid queue depths.
At shallow QD of 1, the drives read performance is ok, but the write performance is very good.
The latest version of CrystalDiskMark, version 7, includes a couple of profiles that can be used for testing – Peak Performance and Real World. The result screens for these two profiles not only display MB/s results but also IOPS and latency.
Looking at the Peak Performance results for Sequential read/write performance we could confirm the official Sequential read figure of 3,400B/s, with the tested drive producing 3,460.73MB/s but the drive couldn't quite hit the maximum 3,200MB/s write figure with a test result of 3,153,22MB/s.
We also used CrystalDiskMark 7 to test the drive at lower queue depths (where most of the everyday workloads occur) using 1 to 4 threads. The read performance climbs smoothly throughout the tested queue depths and threads.
In the two threaded write test, the performance drops considerably from QD2 to QD4.