The last Plextor drive we looked at that used a PCIe interface was the M6e Black Edition (PCIe Gen2 x2 and ACHI). It's a sign of how fast the SSD segment is moving. Just some 18 months later we have a drive that not only uses the next generation of the PCIe specification running at x4 speed, it also uses the latest NVMe architecture designed from the ground up to support Flash NAND. All of which give the M8Pe(G) performance that is a huge leap forward over the previous M6e Black Edition.
Under the ATTO benchmark, the drive confirmed Plextor's Sequential read/write (2,300MB/s and 1,300MB/s respectively) figures and in fact even bettered the read performance slightly by producing a score of 2,400MB/s for reads and 1,303MB/s for writes.
Plextor quote random 4K figures for the drive at up to 260,000 IOPS for reads and up to 250,000 for writes. With our test method, we got 204,285 IOPS for reads and writes of 141,922 IOPS, which may be some way shy of the official figures but still make the drive the third fastest drive we have seen to date for read performance and fourth fastest for writes. It has just under twice the write and over twice the read performance of the previous generation M6e Black Edition .
Plextor make a point on the web page for the M8PeG of stressing the testing the drive goes through before it's let out of the building. This is testing which includes a 100% burn-in and age test, a 48-hour sustained read and write test, a 1008 hours of zero error testing and a 250 time power cycle test. All of these steps help push the drive towards its 2.4 million hour MTBF.
The 512GB version of the Plextor M8PeG costs around £248 (inc VAT), but at the time of writing the drive is very hard to find. Plextor tells us that retail availability is expected to be towards the end of November.
Discuss on our Facebook page HERE.
Pros
Cons
Very hard to find
No software management support at present.
KitGuru says: The M8P drives are the first in the Plextor arsenal to use the NVMe specification and it's a mightily impressive first step.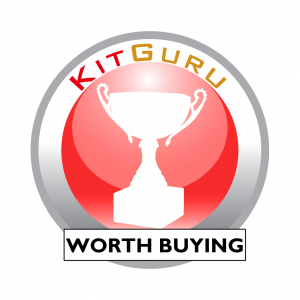 Be sure to check out our sponsors store EKWB here