The front of the box is dominated by an image of the drive with the capacity listed on the top right hand side of the box. The rear of the box has a panel with a description of the drives format, the fact it uses BiCS Flash, supports TRIM and has a 3 year warranty.

The drive comes held in a plastic shell with just a SSD manual and warranty statement for company.
Built on a standard 2.5in, 7mm format, the enclosure of the TR200 is of metal construction and is a 'clipped' design.

The PCB is a 3/4 design, i.e doesn't quite fill the enclosure.

One side of the PCB holds four packages of Toshiba 64-Layer 3D TLC BiCS NAND (coded TH58TFT0T23TA2). The other side of the board holds another four NAND packages and the tiny Toshiba TC58NC1010GSB controller. Details on the controller are pretty sketchy but it's the same one used in the A100 and TL100 drives with the firmware revised to take account of the 3D NAND.
The controller has a thermal pad stuck to it to wick away the heat from the controller into the drives enclosure. One thing to note is that TR200 is a DRAM free design.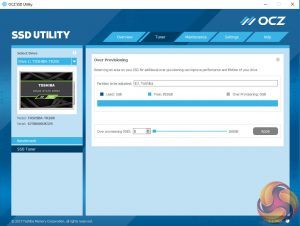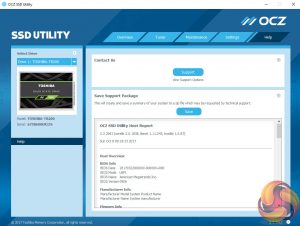 The SSD Utility management software has all the tools you need to maintain the drive and keep it updated.  The Overview page shows the drive's lifespan, capacity usage and temperature. It also displays the firmware version and any alerts for the drive. There's also a built in benchmark which sits under the Tuner tab and you can also set the over-provisioning level.