The box for WD's Black PCIe drive has an image of the drive on the front, along with PCIe and NVMe logos. A small sticker on the bottom right displays the drives capacity and the fact that WD back it with a 5-year warranty. The rear of the box just has a WD packaging sticker on it and a small diagram showing how they can provide a dual storage solution.

The WD Black PCIe is built on a standard M.2 format PCB which is coloured blue- we would have thought from a marketing point of view WD might have used a black coloured PCB.  Some other M.2 PCIe drives have an added layer of copper built into the label to help disperse heat build up. WD don't seem unduly worried about any heat as they have opted for a standard label.

All the drives components are housed on one side of the PCB with the Marvell 88S1093 and Nanya cache chips sitting between two SanDisk 256GB TLC NAND packages. The 28nm 88S1093 is Marvell's first NVMe controller and supports 15nm TLC/MLC/SLC and 3D NAND. The 8-channel controller features Marvell's 3rd generation LDPC technology which enhances NAND reliability and endurance.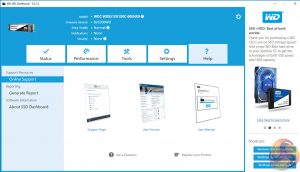 To look after the Black PCIe you can download WD's SSD Dashboard utility. With it, you can see how much of the drive's capacity is left and how the storage is being used, monitor the remaining life of the drive and the temperature it's running at.
The performance section has a useful real-time chart that monitors the drives performance in 5-minute time slots in either MB/s or IOPS.
The tools page is where you can check for firmware updates and install them either via a bootable USB drive, CD/DVD or by using a file downloaded to the PC. The help page provides links to WD's support page for the drive and to the WD user forums or download the product manual.
Also available via a download from WD's site is Acronis True Image WD Edition software for cloning and backing up drives.