The Plextor M6V 256GB SSD is facing a tough task – getting visibility and traction in a market literally flooded with high quality drives from a variety of manufacturers. The M6V is the new budget, 'mass market' drive for the company and as such it has to compete against the market leaders such as the ever popular EVO series from Samsung.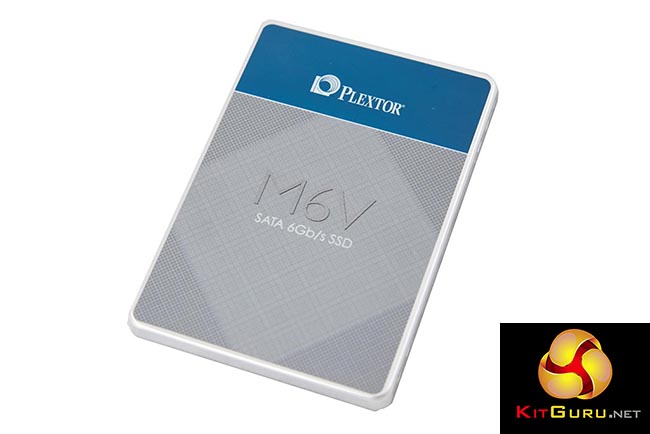 Aesthetically the M6V rates highly, we appreciate the subtle, understated design. No one is likely to base a buying decision on the appearance of a Solid State Drive however and we do have to raise some points against the M6V, especially in regards to sequential write performance.
Plextor have released the M6V series in 128GB, 256GB and 512GB capacities. While all of the drives deliver read performance around 535MB/s, the write performance drops from the 512GB rated 455 MB/s to 335 MB/s from the 256GB drive and then to a paltry 170 MB/s from the 128GB drive. In today's Solid State Drive market a write speed of 170 MB/s seems positively archaic so the smallest M6V would seem difficult to recommend at all.

The 256GB drive we reviewed today feels fast enough in a real world environment but if you simply must have the fastest write speeds, we do feel that 335 MB/s is lagging behind the M6V's leading competitors. The Samsung 250GB EVO for instance is not only faster, but it is slightly less expensive – available at only £69.35 inc vat from Amazon.
You can buy the Plextor M6V 256GB from Scan for £71.10 inc vat. However be aware that the Scan store page for the 256GB drive has listed the higher write speeds (455MB/s) only achievable via the larger, more expensive 512GB drive.
Discuss on our Facebook page, over HERE.
Pros:
IOPS performance.
Silicon Motion SMI-2246 controller deals with incompressible and compressible data in equal measure.
we like the appearance.
reasonable pricing.
Cons:
256GB and 128GB models have much slower write speeds (335 MB/s and 170 MB/s respectively).
facing incredibly stiff competition from the likes of Samsung.
Kitguru says: The Plextor M6V is a solid all round solid state drive, but unless you buy the biggest 512GB model the write performance will take a significant hit.