It was way back in May 2015 that we were given a sneak peak at what the recommended specifications for the Oculus Rift CV1 headset would be and they weren't insubstantial: a GTX 970, i5-4590 and 8GB of RAM. You also needed two USB 3.0 ports, but that's now been updated to say you need three of those and another USB 2.0 port.
Spotted by the ever vigilant members of the Oculus Subreddit, the addition of extra USB port requirements has many speculating about what they could be for. The DK2, the most current Oculus headset available to end users and developers, required two USB ports: one for the headset and a second for the camera. So what are the others for?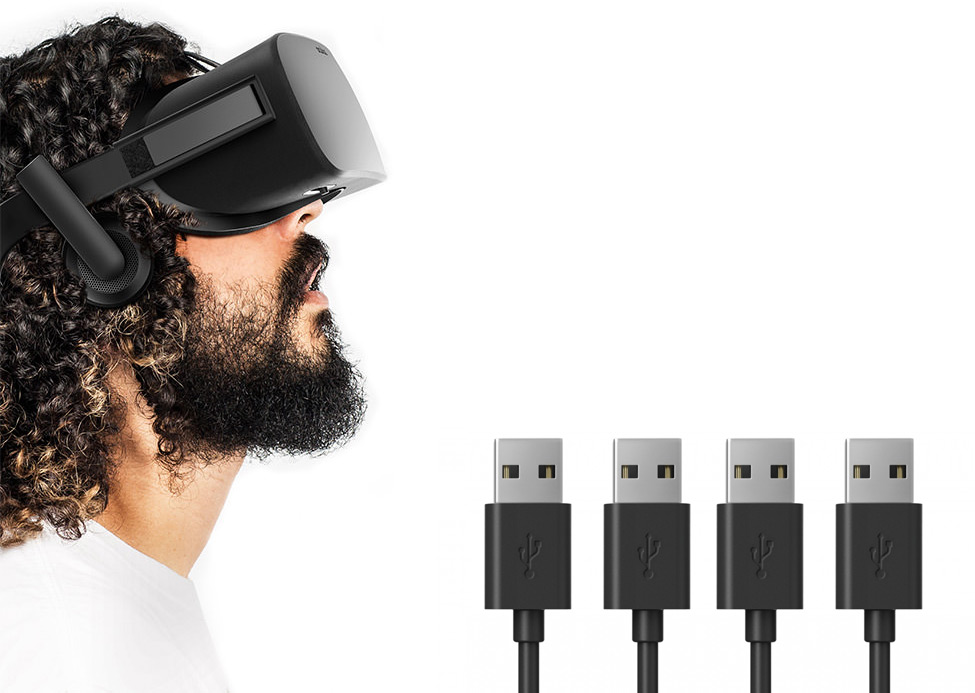 Some suggestions have been that two of the ports will be for the Oculus camera sensors, two of which will come with the base set up. The third could be for audio power and possibly tracking data from the headset itself, while the fourth may be for the Xbox One wireless adaptor, as we know that controller is coming part and parcel with the Rift.
The other change made to the specifications is the requirement for 64bit Windows 7 or newer. That seems likely just to be a correction, as there's zero point in having more than 3.2GB of RAM while running a 32bit OS.
This is an interesting development considering how close we are supposed to be to the pre-order and eventual release of the first commercial virtual reality headset from Oculus. Initially pre-orders were slated to be this year, but Oculus founder Palmer Luckey claimed he may need a "rain check," on that. At the very least though, we know CV1 is launching towards the end of Q1 next year, so this is an addition made in the 11th hour of its development.
Discuss on our Facebook page, HERE.
KitGuru Says: What do you think the additional USB ports are for? More importantly though, do you have four-free USB ports available on your PC? Maybe Oculus should bundle a PCIE USB 3.0 add-in card too.