Intel Corp. is not going to release its next-generation code-named "Broadwell" family of central processing units (CPUs) until later this year, but it is already working on two small form-factor PCs based on the chip. While the products are still in development, we already know that both are going to be packed with promising technologies.
Intel's engineers are currently working on the code-named "Rock Canyon" NUC (new unit of computing) small form-factor (SFF) desktop PC that will feature Core i3 or Core i5 microprocessors based on the Broadwell micro-architecture.
The company plans to release the system sometimes in the third quarter this year, said sources with knowledge of Intel's plans. Later in the year, Intel plans to release code-named "Maple Canyon" NUC that will feature a processor with Intel vPro technology.
The "Rock Canyon" NUC will be strongly focused on consumers (on the used in the living room, to be exact) and will feature loads of technologies designed just for them. The SFF PC will feature USB 3.0, HDMI and DisplayPort connectivity and will be ready to integrate an infrared receiver module. The unit will feature M.2 PCI Express-based slot for solid-state drives.
In addition, the "Rock Canyon" will feature NFC technology to connect to new smartphones and tablets as well as WiChrg technology, said the sources. Overall, the "Rock Canyon" NUC looks to be a lot more consumer friendly than its predecessors.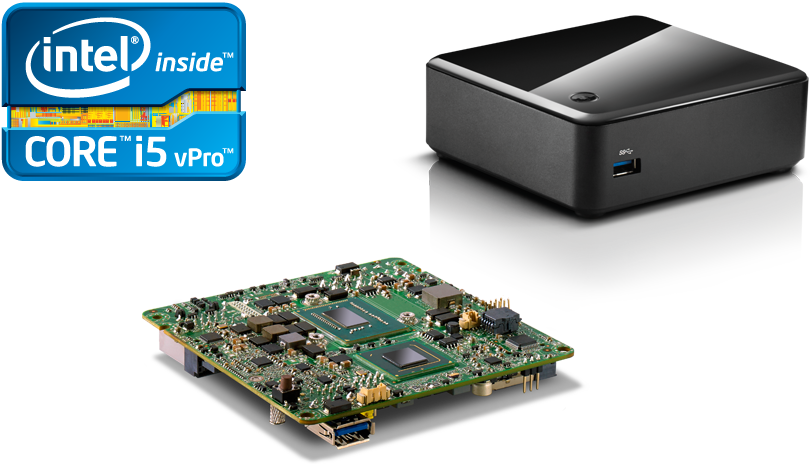 The "Maple Canyon" will be a bit more conservative since it is designed for business customers. It will feature Intel Core i5 with vPro package, a set of Trusted Execution, Virtualization, Active Management and other technologies designed to improve security, add remote management as well as other capabilities for the enterprise environments.
The "Maple Canyon" will feature USB 3.0, DisplayPort connectivity, M.2 slot for SSDs, built-in Ethernet and so on. So that to add configuration flexibility, the unit will also feature 2.5" drive (in case M.2-based one is not enough or not needed).
Both "Rock Canyon" and "Maple Canyon" will feature Intel Core i-series "Broadwell" microprocessors, so expect them to feature Iris Graphics Pro graphics engine with 128MB on-package eDRAM cache memory for additional performance in demanding video games (with 40 or more execution units/stream processors).
Exact specifications of next-gen Intel graphics adapter are unknown, but expect it to support DirectX 11.1+ (with proprietary DX extensions), OpenGL 4.1, OpenCL 1.* as well as features like Intel Quick Sync Video technology, MPEG and JPEG decode acceleration, 4K UltraHD display resolution output and so on. The "Broadwell" family of microprocessors support dual-channel DDR3 memory.
Intel did not comment on the news-story.
KitGuru Says: One big problem with Intel's NUCs is that they are expensive and lack proper graphics cards, hence, cannot be used for playing video games. As a result, the "Rock Canyon" will still be unable to address customers who can pay a hefty price for a small PC (some will get it, but it will not be an alternative for a Steam Machine, for example). The "Maple Canyon" is a promising enterprise-class Intel NUC's packed with a rich collection of technologies. In general, both systems look good on the paper, but we do not have any idea about their pricing, look, etc.