Today we build a high-end workstation system based around the 64-core AMD Ryzen Threadripper 3990X, Gigabyte TRX40 Aorus Master motherboard, and two Aorus Radeon RX 5700 XT graphics cards. Rendering, video conversion, and heavy multi-tasking – we put the system through its paces and are rather impressed by the results – to put it mildly!
Watch via our Vimeo Channel (Below) or over on YouTube at 2160p HERE
For full disclosure, Gigabyte reached out to us with regards to this project and offered up hardware to put to use for the video and testing.
Specifications:
CPU: AMD Ryzen Threadripper 3990X
Motherboard: Gigabyte TRX40 AORUS Master
Graphics Cards: 2x AORUS Radeon RX 5700 XT 8G
Memory: AORUS RGB Memory 3600MHz 32GB (4x8GB) with Demo Kit
SSDs: AORUS NVMe Gen4 SSD 2TB & WD Black SN750
CPU Cooler: Noctua NH-U14S TR4-SP3 + NF-A15 Push-Pull
Chassis: Fractal Design Meshify S2 Tempered Glass White
PSU: Seasonic Prime TX-1000 1000W
Test Monitor: AORUS CV27F 165Hz Gaming Monitor
Core to the system is AMD's Ryzen Threadripper 3990X 64-core processor. This really is an obvious choice for any high-end workstation build for our typical consumer/prosumer use cases; the chip is significantly faster than its nearest competitors.
With a focus on efficiency, we'll be running at stock 280W TDP operation and letting Precision Boost 2 (not Precision Boost Overdrive) modulate the clock speeds.
Gigabyte's TRX40 Aorus Master motherboard forms the backbone of our system. We reviewed this motherboard recently and were impressed by the overall design as well as the superb VRM components with a true 16-phase PWM controller.
Memory comes in the form of 32GB of Aorus RGB DDR4-3600 RAM with the added Demo Kit dummy RGB modules. Though 32GB proved to be perfectly adequate for many rendering tasks in the likes of Blender and Cinebench, it is an area that I would be keen to increase to 64GB for heavy multi-tasking with this processor.
Cooling is a straightforward choice. The best cooler that we have tested for the Ryzen Threadripper 3990X is the IceGiant Prosiphon Elite, however, the on-sale version is not yet available. As such, we will use the second-best CPU cooler that we have tested with the 3990X – Noctua's U14S TR4-SP3. An additional NF-A15 PWM fan is added for push-pull configuration.
A couple of Aorus Radeon RX 5700 XT 8G graphics cards are deployed with the focus being put on GPU compute. We are not running CrossFire as this is not primarily a gaming system. Instead, the dual GPUs can be leveraged for tasks whereby GPU compute proves worthwhile, such as rendering.
There's also the opportunity to set one GPU to heavy compute work and then leverage the other for a spot of gaming while the workload completes.
The 2TB Aorus PCIe Gen 4 SSD delivers around 5GBps sequential read speed and is a good choice for our heavy data/scratch SSD. We also use a WD Black SN750 NVMe SSD for the OS.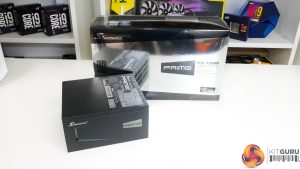 Power is delivered by the 80Plus Titanium-rated Seasonic Prime TX-1000 1kW unit. With a couple of RX 5700 XT graphics cards and the 280W Threadripper 3990X, a high-quality 1000W unit is a sensible choice. We saw wall power hitting around 850W, meaning that we are keeping the PSU in its stable, cool, and quiet operation window. But we also have some more room for a little overclocking.
The chassis of choice is Fractal's Meshify S2 tempered glass edition in white. I am personally very fond of this case and it fits the E-ATX motherboard and accompanying hardware with relative ease. Quiet included 140mm fans and front panel USB Type-C are also useful features.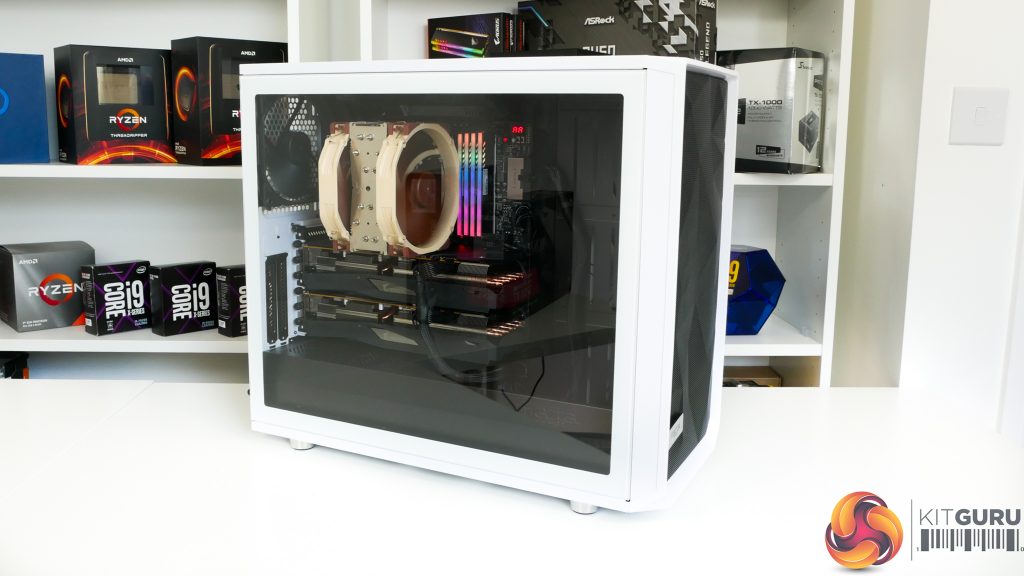 We are happy with the outcome of the build. I personally like the contrast brought about by Noctua's beige and burgundy fans while the sleek black appearance of Gigabyte's Aorus hardware works very well.
The right-angled 24-pin power connector made cable management slightly challenging in our chassis, but the 90-degree entry point made for a clean connection with the fat power cable.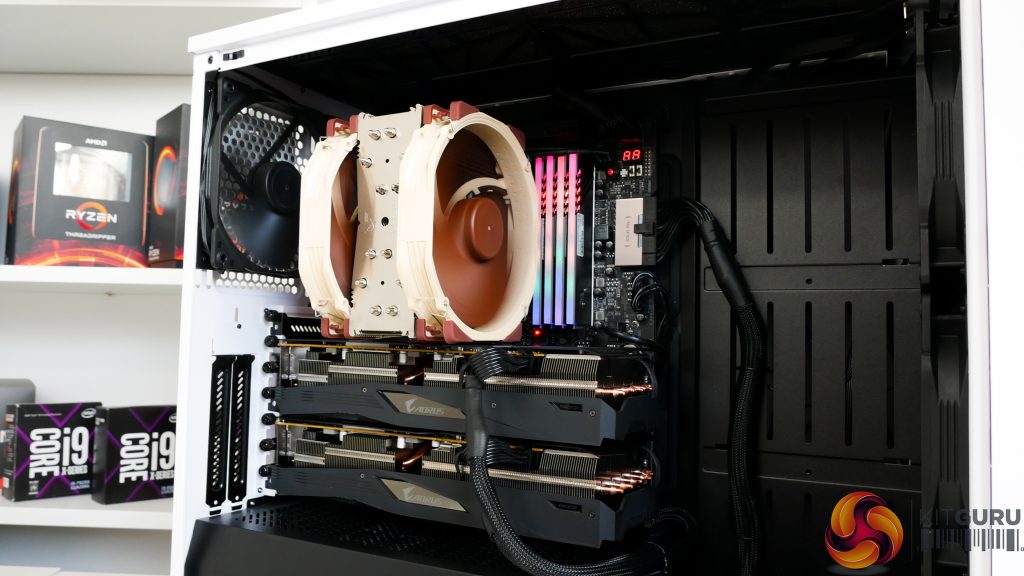 RGB lighting from the Aorus memory looks very good in my opinion. The glow is subtle and not overpowering and it links well with the partnering hardware which also has subtle lighting. Gigabyte's OS software can be used to change or turn off all lighting with ease.
The system performed very well with CPU and GPU rendering and heavy multi-tasking. I was particularly happy with the ability to run consecutive Handbrake video conversion queues by leveraging the 64-core processor. This is an area where a system such as this would really benefit in our day-to-day video editing workloads.
Make sure you check out the full video for a deeper look at performance and more discussion on YouTube HERE.
KitGuru Says: This was an enjoyable project and certainly helped put into perspective the sheer might of the AMD Ryzen Threadripper 3990X processor when used for multi-tasking. Thanks to Gigabyte for supporting this project with a variety of Aorus hardware that delivered the goods effectively.