We used the PC Specialist Magma LX to play a variety of popular and graphically demanding games to see if it can achieve good FPS. All the games were tested at 1920 x 1080 resolution with different graphics quality settings.
PlayerUnknown's Battlegrounds is a hugely popular game at the moment so it's important that this gaming PC can run it well.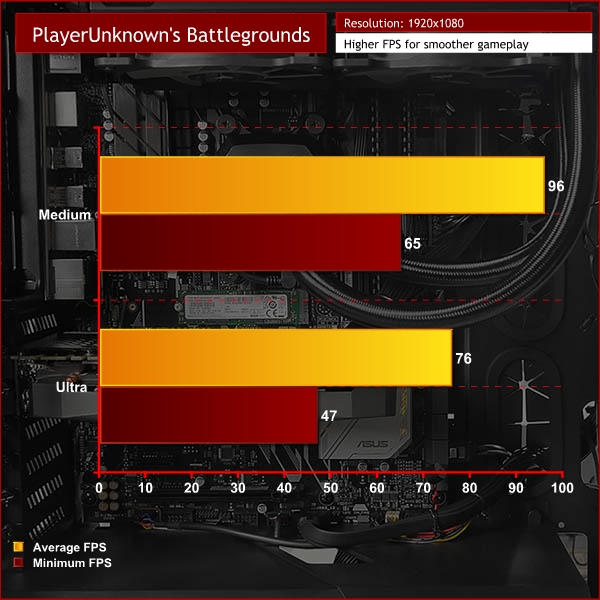 PlayerUnknown's battlegrounds is not the most optimised game but the Magma LX maintained an extremely good average of  76 FPS on Ultra settings. If your someone that doesn't like to dip below 60 FPS while your gaming then you'll have to drop the Graphics settings down to medium on PUBG but on average you'll be seeing nearly 100 FPS if you have a monitor with a high refresh rate.
Call of Duty: WWII is a classic first person shooter. As the newest instalment in the Call of Duty series it is easily the best looking with the environment being incredibly realistic. This of course puts a strain on the PC playing it and makes it excellent to test a PCs gaming prowess.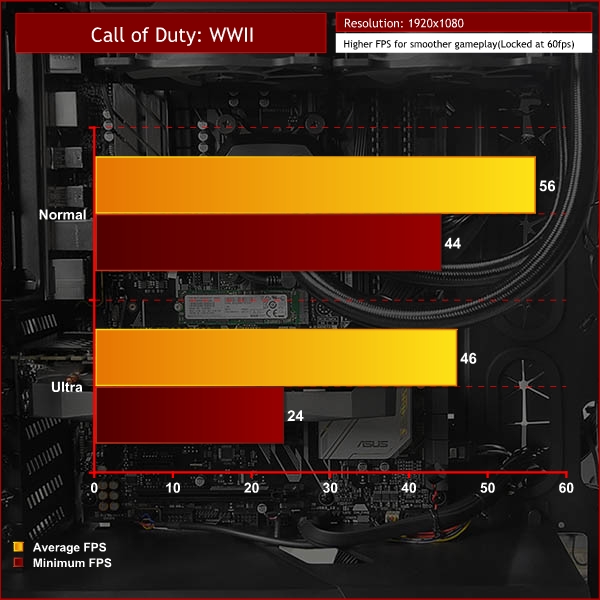 Call Of Duty: WWII locked the refresh rate to 60hz and on normal settings the magma LX achieved 60FPS the majority of the time. The FPS rarely dropped below this threshold and didn't interrupt game play. On Ultra the Magma LX struggled to keep the game running at 60FPS but the average FPS was still playable and rarely dipped below 30FPS. I am also suspicious that the random FPS drops may be more to do with the game itself than the PC's performance.
Tom Clancy's Ghost Recon Wildlands is a game with a superb open world environment. The beautiful scenery of mountains, forests and deserts requires a lot of GPU power to render making it very demanding game that is perfect for testing a PCs gaming performance. We have also included screenshots of this games very handy inbuilt benchmark.
Tom Clancy's Ghost Recon Wildlands ran like a dream on the Magma LX. We tested out 3 different graphics quality settings to see which would be most suitable for smooth 60FPS gaming. Very high settings seemed to be the sweet spot with the minimum FPS only dipping to 65. The game is still very playable on ultra settings with the average FPS nearing 60 and only dipping occasionally to near 40FPS.
It seems the the Magma LX is a very capable gaming PC. We have tested 3 very demanding games and got excellent results. This PC will be perfect for playing the latest games on High/Ultra settings at 1080P. And those of you with monitors with higher refresh rates (144hz) and resolutions (1440p) should see great performance from this PC in slightly older, less demanding games (CS:GO,WOW). The Magma LX is well above the threshold required for VR Gaming also.