Intel has unveiled a new device they are calling Element, a next-generation modular PC platform aimed at gaming and workstation NCUs which will offer up to eight-core Xeon or Core series processors.
At a recent Intel event in London, the Element was on display. Similar to a concept which Razer introduced at CES back in 2014, the Intel Element features a CPU, DRAM and storage on a single PCB housed in a dual-slot form factor, including Thunderbolt, Ethernet, Wi-Fi and USB connectivity. All of this is designed to slot into a backplane and is then paired with a GPU or other accelerators.
The Element is covered in a black shroud and has its own dedicated cooling system. The prototype version on show at the London event featured a BGA Xeon CPU and had two M.2 ports and two SO-DIMM LPDDR4 memory slots with additional controllers for Wi-Fi, Ethernet and USB. An HDMI port from the integrated Intel graphics, four USB ports, two Ethernet ports and two Thunderbolt 3 ports are positioned on the rear I/O Shield.
The M.2 port can be accessed by removing a couple of screws from the cover. While the device on show used a Xeon CPU, it is believed there will be other versions featuring consumer desktop Intel Core CPUs in the future. Since Thunderbolt 3 ports are on the device it's likely we will see 10th generation Ice Lake CPUs in there eventually.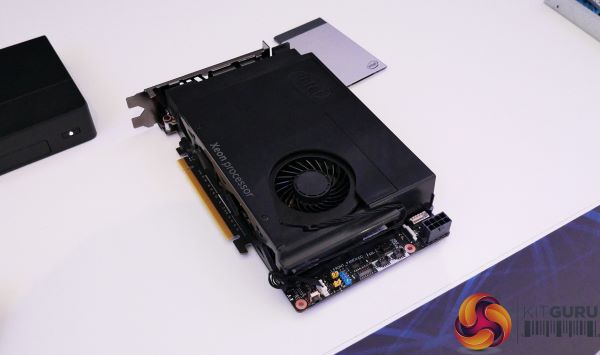 At present the device is believed to support PCIe 3.0 as a prototype, if the device does reach production it could migrate over the PCIe 4.0 or PCIe 5.0 when the technology arrives on Intel platforms.
According to Anandtech, the backplane would also provide a source of power, "A direct PSU into the backplane would serve as offering 75W to each of the PCIe slots, as well as any other features such as system fans or additional on-backplane controllers. This power could come from a PSU, or from a 19V input, depending on the exact configuration of the system".
Intel's main objective of the Element is to simplify system upgrades. Customers could retain the chassis/backplane and just replace the Element card to upgrade to the latest performance and features. Intel plan for OEMs to get their hands on production versions of the Element sometime early in 2020. Final specifications and pricing are yet to be determined.
KitGuru says: The Intel Element certainly looks like it could offer an easy upgrade path compared to replacing full systems when they become out of date. However, this would depend on how competitively priced they are once available.