KitGuru's video about the original £30,000 8Pack OrionX PC has been massively popular so we grabbed the opportunity to get up close with the new £33,000 OrionX2. As Ian '8Pack' Parry was hefting this new OrionX2 PC through the door of the KitGuru studio we were discussing the all-up weight which is something like 80kg.
"Perhaps the next version will be carbon fibre – that might be an idea."
Whether it was wishful thinking or early planning, you heard it first here folks.
Watch the video via our VIMEO Channel (Below) or over on YouTube at 2160p60 HERE
Note: if the above images are not displaying properly, you may need to disable Ad Block as it is known to interfere with our display code
The specification of 8Pack OrionX2 has evolved from the previous OrionX (base spec £25k, typical spec £30k) with the main system migrating from Intel X99 and ten CPU cores to Intel X299 with 18 cores and 36 threads. The secondary system moving from quad core Kaby Lake to 8 cores of i9-9900K.
Previously the DDR4 memory was 64GB of Corsair Dominator and is now 128GB of 8Pack from Team Group.
The other major change is that the graphics were previously Nvidia Pascal GTX 1080Ti and are now Nvidia RTX. Typically these would be RTX Titan, although the system in our video is equipped with RTX 2080 Ti graphics.
Technical Details (Primary System):
Specially customised Phanteks Elite Full-Tower with integrated reservoirs and 8Pack logos
Cool interior with LED lighting, cable sleeving and coloured liquid coolant
Custom watercooling with EKWB components and three independent custom loops
Custom OC & water cooled Intel Core i9-7980XE (Skylake-E) with 18 Cores (36 Threads), 24.75 MB L3 Cache and OC @ min. 4.6GHz
Asus ROG Rampage 6 Extreme Omega Mainboard (E-ATX) with Intel X299 chipset and LGA 2066
Two water cooled Nvidia RTX Titans with 24GB GDDR6 VRAM connected in NV-Link for incredible gaming graphical performance, or three water cooled Nvidia RTX Titan run independently for computational/rendering operation.
128GB (8x16GB) 8Pack edition Team Group DDR4-3200MHz or 64GB running at 3600MHz
2TB Samsung 970 Evo NVMe-SSD as the primary storage device
2TB Samsung 970 Evo NVMe-SSD as the secondary data storage
Huge 14TB Seagate HDD for tertiary data storage
2,000 Watt Super Flower Leadex 8Pack Edition Power supply with extreme performance & 80Plus Platinum efficiency
Perfectly applied Thermal Grizzly Hydronaut thermal compound
OS Windows 10 Professional
Technical Details (Secondary System):
Custom water cooled Intel Core i7-9700K (Coffee Lake) with 8 cores, 12 MB L3 Cache, and overclocked to at least 5.0GHz or Intel Core i9-9900K, 8 Core, 16 Thread Overclocked to at least 4.8GHz
Asus ROG Strix Z390I Gaming Motherboard (Mini-ITX)
Rapid DDR4-RAM with 16GB capacity at an unbelievable 4000MHz clock frequency
Exceptional graphics card: Nvidia RTX Titan with 24GB GDDR6 VRAM
Two lightning-quick and reliable Samsung 970 Evo M.2 NVMe SSDs with 2TB, configured in RAID 0 as the primary storage devices
A huge 14TB capacity Samsung HDD for secondary storage
OS Windows 10 Professional
8Pack was keen to stress the knowledge that OCUK gain from developing this Ultra-high end PCs is used in considerably cheaper systems such as Infin8 or Germanium
The number of people willing or able to spend upwards of £30k on a PC is clearly a select group however the benefits also flow down to the mainstream enthusiasts.
Closing Thoughts.
Cynics told us the original 8Pack OrionX was crazy expensive and made little sense. The fact that OrionX sold in healthy numbers and has now been updated to OrionX2 proves there is a solid market for these astonishing PCs. We consider this to be an incredibly positive trend as it follows the hardware used in these systems has been tested to the absolute limits.
You may not feel the urge to invest in an 18-core CPU, push the clock speeds towards 5GHz, add 64GB or 128GB of DDR4 and then gang up three high end graphics cards but the fact it is possible makes our life better in the day-to-day humdrum world.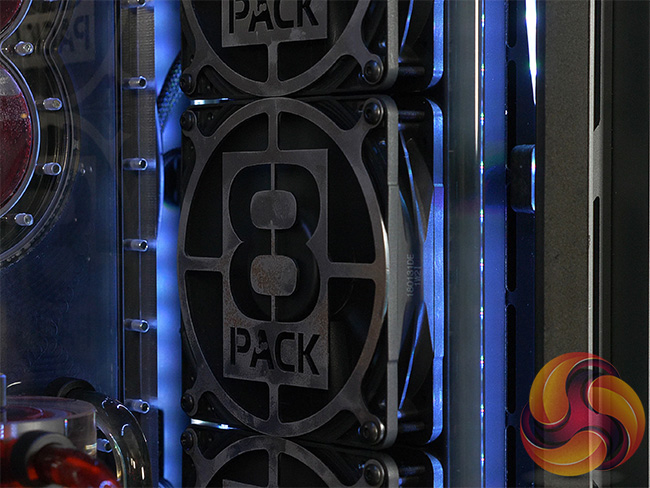 It proves beyond doubt that we can overclock a mainstream CPU, push the memory hard and make a single graphics card perform to its maximum ability and the system can be cool and quiet at the same time.
OrionX2 is much more than a proof of concept, it is a roadmap that shows us how we can improve our own systems and unlock the potential.

Buy from Overclockers UK for £32,999.99 HERE (customisations are possible).
KitGuru says: If you have forty grand burning a hole in your pocket – we say 'Why not!?'