Like any local system integrator, Overclockers UK can build a wide variety of PCs to suit all sorts of needs and all sorts of prices. With this Germanium system, though, there's just one set of buyers the company is aiming for: high-end gamers.
With an asking price of £2,399.99, it's not a cheap option but for that outlay you get all the very best components currently available for a gaming PC. There's an Nvidia GeForce GTX 1080 Ti, an Intel Core i7-8700K processor, a 500GB Samsung 960 Evo and 16GB of RAM all wrapped up in a stylish, tempered glass chassis with pre-installed lighting.
The processor also comes pre-overclocked to 4.9GHz and the whole system boasts a 3-year warranty for long term peace of mind.
Also, just about all these components can be tweaked and re-configured and you'll still benefit from the £200 discount that Overclockers UK currently adds to the system. Everything so far suggests this should be a PC well worth considering, so let's see if it lives up to its promise.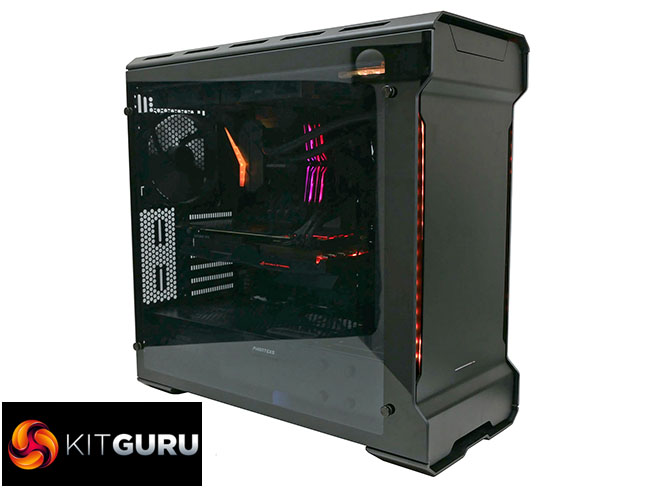 Specifications:
CPU: Intel Core i7-8700K (@ 4.9GHz)
CPU cooling: Overclockers all-in-one liquid cooler with 240mm rad/fan
Memory Supplied: 2 x 8GB
Memory Type: DDR4
Memory Speed: 3,200
Max Memory Support: 64GB
Graphics Chipset: nVidia GeForce GTX 1080 Ti
Graphics Memory: 11GB GDDR5
Graphics cooling: 3 x fans
Storage: 500GB Samsung 960 Evo, 3TB hard drive
Front ports: 2 x USB 3.0, headphone, microphone
Rear ports: 4 x USB 3.0, 1 x USB-C, 2 x DisplayPort, 2 x HDMI, 1 x DVI, optical digital audio, 6 x analogue audio
Networking: Intel gigabit Ethernet
Power supply: SuperFlower Leadex II 650W
OS: Windows 10 64-bit
Warranty: 3yr collect and return
Total cost: £2,399.99
Be sure to check out our sponsors store EKWB here