To measure idle temperatures, a reading was taken after having Windows open on the desktop for 30 minutes. A CPU reading under load was taken with Prime 95's SmallFFt test running while a GPU-load reading was taken with 3DMark Fire Strike running.
Noise levels were tested using a decibel meter held 30cm from the front and centre of the laptop.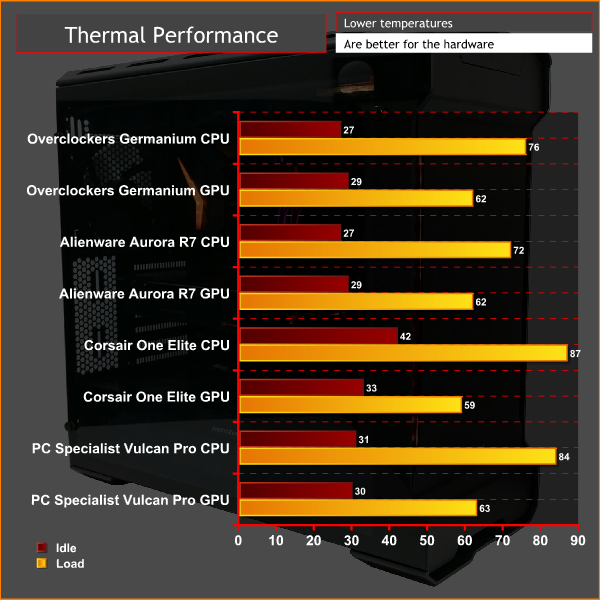 The Overclockers Germanium stays impressively cool despite its powerful, overclocked hardware. The CPU certainly gets a little toastier than some but it's still well short of a level that would concern us. Meanwhile the GPU hits a very comfortable 62°C, so there's plenty of headroom there.
On the noise front, the Germanium wasn't quite as quiet as we'd hope as there's a fairly noticeable hum from the hard drive. Holding the drive down, the hum is reduced, suggesting slightly better hard drive vibration dampening would solve the issue.
Overall the system registered at 35.5dB when idle, which is a couple of decibels above ambient. The quietest systems will barely be audible above the 34dB ambient noise, in comparison. Putting the system under load and, as you'd expect, things get fairly loud with plenty of 'whooshing' noise from the fans all spinning up. However, it's not outlandishly noisy nor significantly worse than most competing systems, hitting a peak of 41dB.