Taking a closer look at the configuration included here, it's largely the go-to spec you'd expect for a high-end gaming system. The combination of an Intel Core i7-8700K, 16GB of reasonably fast DDR4 and an Nvidia GeForce GTX 1080 Ti is as good as it gets for gaming without stepping into the murky waters of multi-graphics card systems.
On the storage front, the Samsung 960 Evo SSD has just recently been superseded by the 970 Evo, but the 960 is still more than fast enough while a 3TB hard drive should provide plenty of space for all your bulk data. Upgrading to the 1TB 960 Evo is a tempting option for £150 but otherwise there's nothing we'd change on this system if speccing up our own ultimate gaming machine.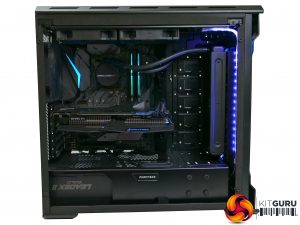 That's of course all topped off by the fact that the 8700K comes pre-overclocked to 4.9GHz. That's not the most impressive overclock for this chip but it's a stable, long-term boost that doesn't result in too crazy a power draw and means Overclockers can guarantee the system to run stably for years.
For the most part you can change just about every aspect of this build with the only real fixed items being the CPU, motherboard, CPU cooler and power supply. Otherwise, RAM, graphics, case and storage can all be changed to whatever you fancy. The most obvious cost saving would be to drop to a GTX 1080 (-£220) or GTX 1070 (-£330) which may be all you need if you're only running a 1080p monitor.
In terms of overall value, the system is very good thanks to a £200 discount that currently applies to this model. Obviously prices will vary from retailer to retailer, but speccing up close to the same system on Overclockers UK comes to over £2500 before you've added any of the lighting strips – and it won't come pre-installed and overclocked either.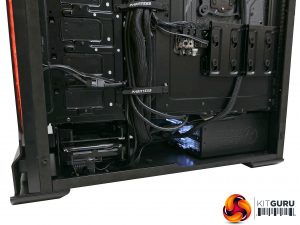 The only significant caveat here is the cost of the graphics card Overclockers is using. Even with graphics card prices being as high as they are, £989.99 for the Asus ROG Strix GTX 1080 Ti in this build is very high. You could instantly save yourself £200 opting for another model.
Nonetheless, you're still looking at essentially price parity and you don't have to put in any effort yourself.