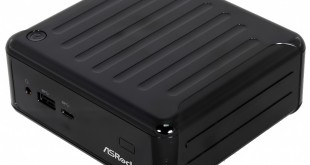 ASRock Beebox is a small form factor PC with a volume of a mere 0.6 litres that is powered by an Intel Braswell processor. We're looking at an N3000 which runs on a dual core CPU with passive cooling and this makes the Beebox name seem a bit silly as a bee is audible while this solid state PC is completely silent. There are also members of the Beebox family called N3150 which use quad core silicon with an active cooler and they may indeed sound a bit bee-like – however that is a different story.
Watch via our VIMEO channel (below) or over on YouTube HERE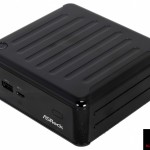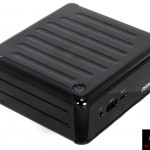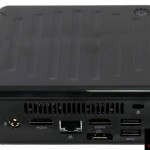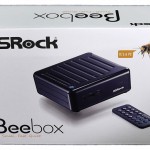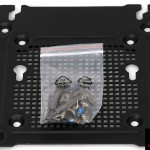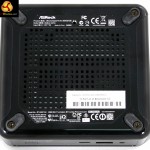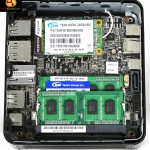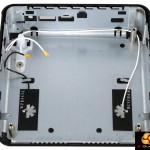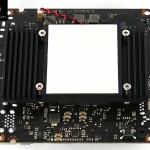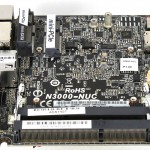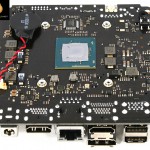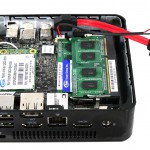 Beebox N3000 is available as a barebones at £130 without storage or memory or you can buy the version we have here for £190 which ships with a 128GB SSD and 4GB RAM but no Operating System. You're either going to have to budget £99.99 for a copy of Windows 10 or come up with a cunning plan to transfer an existing license for Windows 7 or 8.1 to your Beebox as that is a hefty part of the cost.
Incidentally, the two versions of Beebox come in either white or black, however we are told that ASRock will bring out a gold edition that is preloaded with Windows 10 at the factory. Pricing is unknown but if it is less than £290 that will be significant and if it is less than £249 that might be a game changer.

Specification:
CPU Intel Celeron N3000
Memory 4GB DDR3L-1600MHz (2x2GB) – Max 16GB supported.
SSD 128GB mSATA SSD
Storage 1x 2.5-inch SATA HDD
LAN Gigabit
Wi-Fi 802.11ac + BT 4.0
Audio Realtek ALC283
Front I/O 1 x USB 3.0, 1 x USB 3.0 (Type C), 1 x IR, 1 x Audio-Out with MIC-In
Rear I/O 2 x HDMI, 1 x DP, 2 x USB 3.0, 1 x LAN, 1 x Kensington lock
Power adapter 12V/36W
Dimensions 110mm (W) x 46mm (H) x 118.5mm (L)
Volume 0.6 litre
VESA 75 x 75 and 100 x 100
OS Supplied without OS, supports Windows 10/8.1/7 64-bit
ASRock tells us the N3000 has two key features that separate this tiny low powered Intel PC from the legions of other Intel small form factors on the market. One obvious point is that there are two USB 3.0 ports on the front of the chassis and two on the rear however one of the front ports is the new oval type C connectors that is all ready for the next generation of mobile devices.
This is the first type C connector I have seen on a retail PC or laptop (there will be plenty more coming soon) and as yet it has no use as type C is brand new but give it time and it will be worth its weight in gold.
The other feature is less obvious as the N3000 has 4GB of dual channel memory i.e. 2x2GB modules rather than the usual single channel. ASRock tells us that using dual channel memory allows Beebox to play 4K movies where other small form factors with single channel can only display a 4K desktop.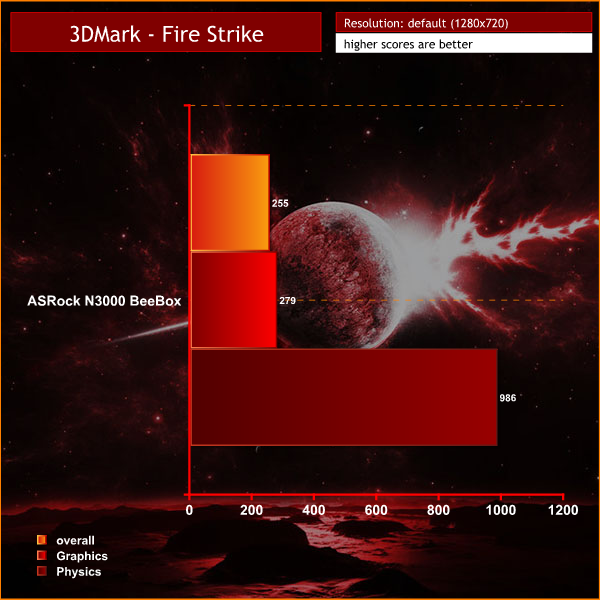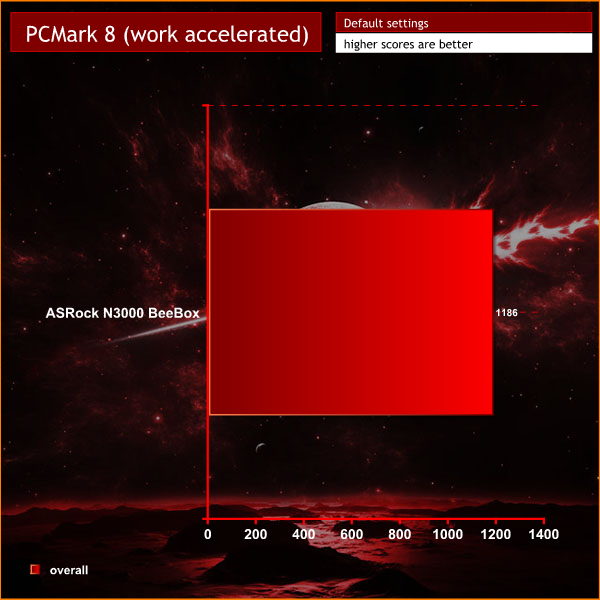 Each new generation of Intel graphics is better than the last and performs in a more sophisticated way. We are happy to accept that Braswell graphics can play games where Baytrail struggles or that 12 Shaders with a base speed of 320MHz and maximum speed of 600MHz are adequate for Windows and movies.
Nonetheless it is a bold claim to say you can watch a 4K movie on Intel graphics, and our initial findings were quite discouraging. Opening a 4K movie in Videolan simply didn't work and was nothing better than a freeze frame with some audio in the background.
We checked with ASRock, updated the BIOS in the N3000, updated drivers and then used Media Player Classic with a specific setting enabled (Internal Filters> Video Decoder> HEVC UHD4K and then go to Playback> Repeat forever to ensure the setting is fixed for every video) and found we could indeed watch 4K video.
Excellent, well done ASRock and while we doubt that 4K is a feature of much interest to the general public it is a technical feat and we cannot take that away from ASRock.
Acoustics Performance
The N3000 is passively cooled and uses solid state storage and is therefore silent.
Power and temperature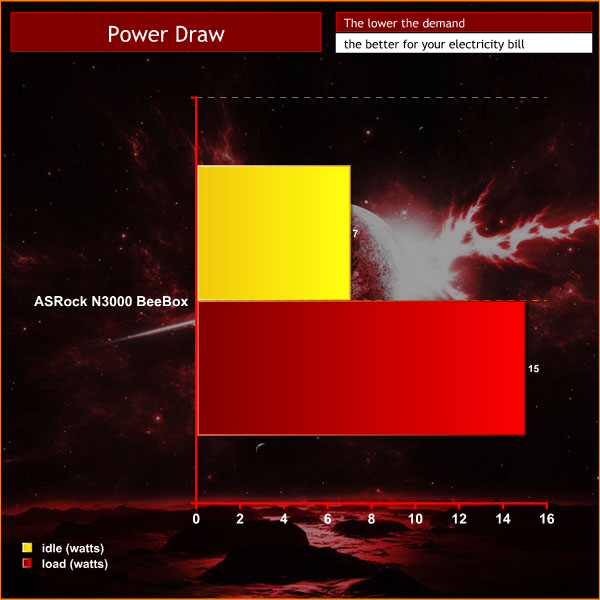 Celeron N3000 is the 14nm Airmont die shrink of Braswell and has a tiny 4W TDP. This is a chip you expect to see in a Microsoft Surface 3 rather than a PC, despite its dual core base speed of 1.04GHz and Turbo speed of 2.08GHz.
The N3000 draws 7W at idle, 10W in office work and a maximum 15W when it is running graphics benchmarks. That's a tiny amount of power however the passive nature of the N3000 and the tiny size of the casing means that it gets rather warm to the touch. In normal use we measured the temperature at 42 degrees rising to 52 degrees under long term steady load. That isn't hot in CPU terms but it is hot enough to give you a surprise if you touch the casing.
Closing Thoughts
ASRock Beebox does a decent job in our benchmarks although it doesn't set the world alight with the scores. On the plus side it chugged through every benchmark without any snags or problems and when we managed to watch 4K video we achieved a clean sweep. All we need now is a device to connect to the type C USB 3.0 port and we shall be truly happy.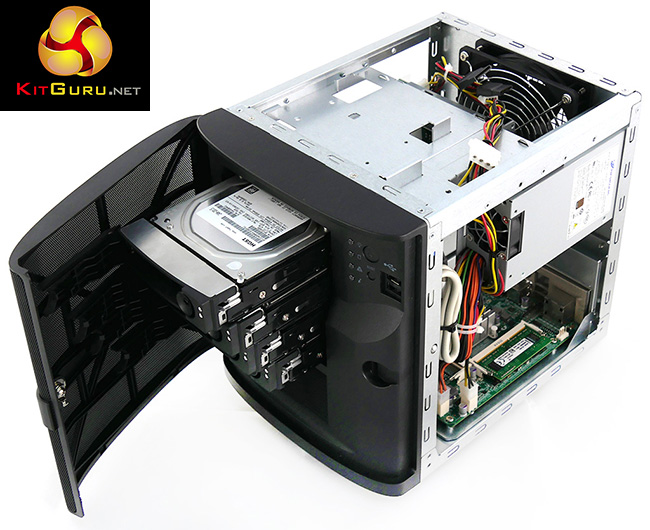 The most obvious downside of N3000, apart from its inability to play proper games, is the price. As things stand it will cost £290 by the time you have installed Windows and you still require a mouse, keyboard and monitor (or TV). We can only hope that ASRock delivers the gold version with Windows 10 at a competitive price point.
More at the ASrock official micro site HERE.
Buy from CCLOnline for £189.98 inc vat without operating system or for £130 without storage, memory or OS.
Discuss on our Facebook page, over HERE.
Pros:
Tiny form factor.
USB 3.0 type C port on the front panel.
2.5-inch SATA bay in addition to mSATA SSD.
Very low power draw that peaks at 15W.
Support for triple monitors.
You have to install Windows either from a flash drive, external drive or a network connection.
Cons:
Dual core CPU and Intel graphics limit fun stuff such as games.
4K video playback is possible but isn't a great experience.
Casing is used to cool the CPU and gets rather warm.
Price is quite high by the time you have installed Windows.
KitGuru says: ASRock has started the type C USB 3.0 ball rolling with the Beebox N3000.