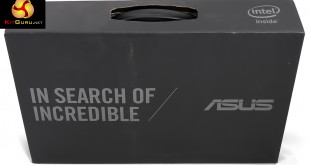 Asus VivoPC comes in a number of versions. This model is the VM62B with a Core i3 processor and integrated Intel HD 4600 graphics which puts it in the middle of the pecking order. You can also buy it with a Celeron 2957U (we prefer to avoid Celerons) or Core i5-4210U (gotta love that Turbo) but instead we have Core i3-4030U. You will note the CPU model code shows it is 4th Gen hardware at a time when Intel has rolled out low power 5th Gen and we fully expect to see 6th Gen later this year.
We are not quite sure why Asus has chosen older 4th Gen hardware, unless it is a simple matter of cutting costs, and on the face of it the MSI Cubi offers more bang for slightly fewer bucks.
Watch via our VIMEO Channel (Below) or over on YouTube HERE
Specification:
Dimension 190mm x 190mm x 56mm
CPU Intel Core i3-4030U 1.9GHz
Memory 2 x SO-DIMM DDR3L-1600MHz slots (DDR3 1.35V)
Max. 16GB
LAN Realtek Gigabit LAN
Audio Realtek with SonicMaster 2x2W
Graphics Intel HD Graphics 4600
Front I/O 2 x USB 3.0
1 x head phone jack with mic
Rear I/O 1 x HDMI, 1 x DisplayPort
4 x USB 3.0, 2x USB 2.0
1 x RJ45
2x headset jacks, S/PDIF output.
1 x DC-In
1 x Kensington lock slot
Power Supply 65W
VESA Bracket included
Wi-Fi Card 802.11ac and Bluetooth 4.0
Storage Support 2x 2.5" HDD/SSD or 1x 3.5" HDD
Support OS Windows 7 32/64-bit
Windows 8.1 64-bit
The barebones nature of the Asus VivoPC throws up a few options as you have to select memory and storage and then install an Operating System. Cubi uses mSATA storage so your options are quite limited while Gigabyte Brix S has the space for a 2.5-inch SSD so the amount of storage you choose is only limited by your budget. Asus goes a step further with VivoPC with its DualBay feature which is considerably more interesting than it first appears.
When you remove the lid from the VM62B you reveal a SATA bay that is filled with a drive caddy that is the same size as a 3.5-inch drive. You can simply remove the caddy and install a 3.5-inch desktop hard drive which gives you the ability to install many Terabytes of reasonably priced storage or you can open the drive caddy and install either one or two 2.5-inch drives. Mixing and matching SSD and HDD technology inside the DualBay means you can combine speed and capacity without breaking the bank.
Realistically you will end up spending £100-£150 on storage, however the form of that storage is a matter of personal choice. To put it another way, if you intend to build a compact small form factor PC with a single 2.5-inch drive then we really don't see why you would choose VivoPC over Cubi, BrixS or Intel NUC.
If, however, you want to install a 3.5-inch drive to provide 2TB or more of cheap storage then VivoPC is clearly something you should consider. Where things get interesting is when you use a combination of two drives such as a 250GB or 500GB SSD for Windows and applications and a 1TB laptop hard drive for storage.
This is the basis for a fully configured Windows 7 or 8.1 PC, and it also has a place as a media centre that sits under your TV but this is where the details start to get a little troublesome. All the ports and connectors – that's four USB 3.0, two USB 2.0, a card reader, audio and Ethernet – are arranged on one side of the chassis, along with the power connector. This makes it tricky to use on a desktop or under your TV as the power connector is bound to be at the back which means the USB ports will also be out of sight.
On the other hand if you install the VivoPC on VESA mounts on the rear of your monitor with the ports and connectors uppermost you are likely to find some of the USB ports are blocked when you connect devices and peripherals. There is also a concern that installing a 3.5-inch hard drive might make a relatively small and light display rather top heavy.
Performance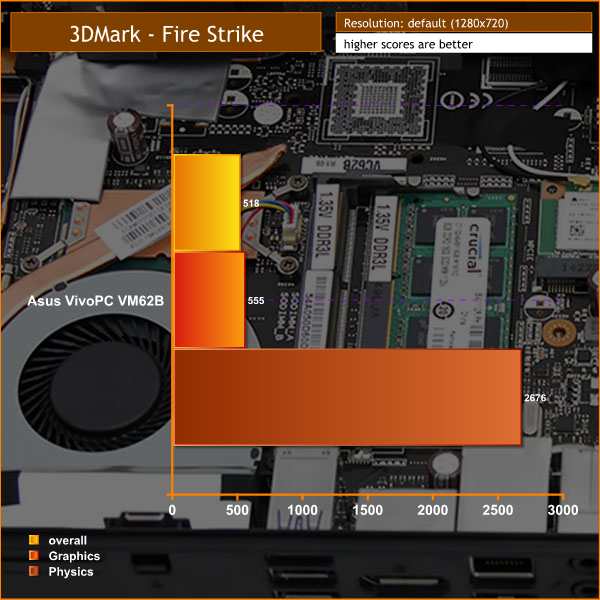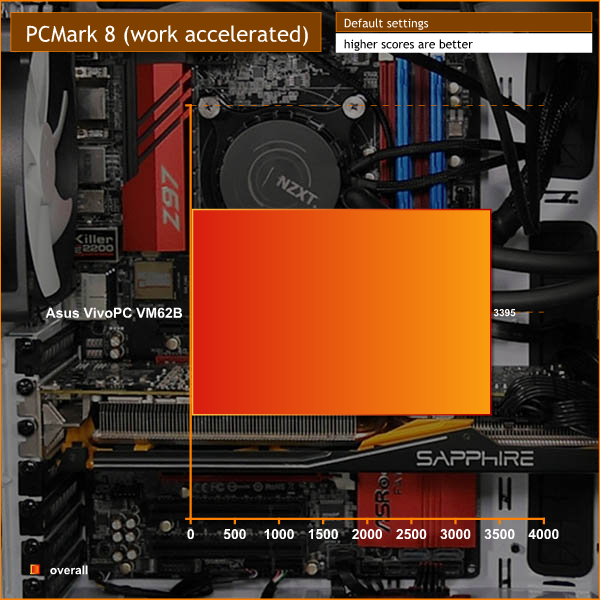 Although Asus has chosen 4th Gen Intel Haswell hardware the performance is barely any slower than 5th Gen Broadwell. On paper you would expect the Intel HD 4600 graphics to be slower than the newer HD 5500 but in practice there is little to choose between the VivoPC and, say, MSI Cubi.
You can use VivoPC for general day-to-day PC duties but have to draw the line at gaming and heavy duty tasks such as video editing. Apart from those considerations, this small form factor PC has enough grunt to perform satisfactorily and if you boot off SSD it is both fast and responsive.
Power and heat.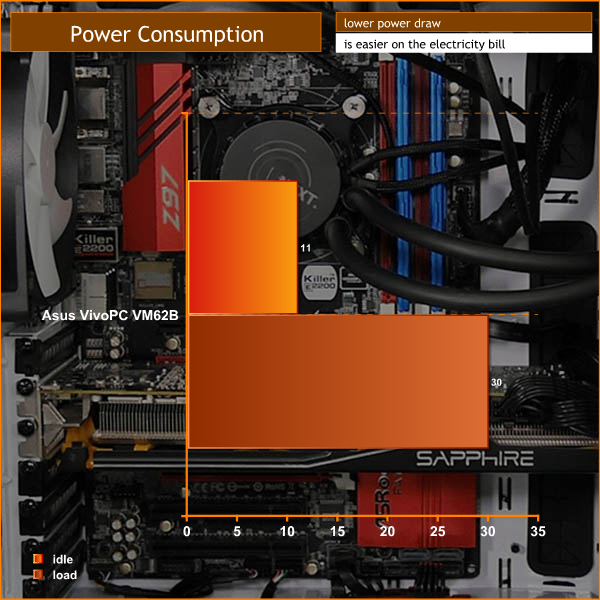 You only need 11W to power the Windows desktop and the power draw rises to a mere 30W under the extreme load of 3D Mark. Those numbers are low but the comparable figures for MSI Cubi are 10W and 24W so it is clear that Broadwell is clearly more efficient than Haswell. No matter, the chassis remains cool to the touch and the CPU runs at 38 degrees when you watch videos and rises to 58 degrees under heavy load. By any standards those are low temperatures.
Acoustics Performance
The Core i3 hardware inside this VivoPC runs at a fixed clock speed so there is a steady load on the processor, however the PC is effectively silent when it is idling on the desktop. When the workload increases you can hear the cooling fan responding but it cannot be described as noisy. On the other hand the way the fan speed rises and falls does get slightly annoying, although you can only hear it in a very quiet room.
Closing Thoughts
The ASUS VivoPC VM62B is similar to a number of other mini PCs we have seen in recent times that rely on an Intel CPU with Intel graphics. The stand out feature in the VM62B is the Asus VIVO DualBay that accommodates either one 3.5-inch drive or two 2.5-inch drives. If you intend to use a massive 3TB or larger desktop drive then the VM62B is a decent choice however the exact way you use this VivoPC, either in VESA or on your desk, will affect your decision.
Things get more complicated if you want more storage than a single 2.5-inch SSD or hard drive but don't want to use a large and relatively noisy 3.5-inch desktop drive. As we mentioned earlier it is feasible to install a 250GB SSD and a 1TB data drive however it is less simple to decide who fits in this particular category. This mysterious person doesn't want to simply boot off a 1TB laptop drive, presumably because they like the speed of an SSD, however a 250GB or 500GB SDD doesn't provide enough storage capacity and a 1TB SSD costs too much.
No doubt someone out there recognises themselves from that description but it seems much simpler to plump for a small form factor with a single 2.5-inch drive and if you run out of space simply add a USB external drive.
You can buy the VIVOPC barebone from Ebuyer for £225 inc vat HERE.
Discuss on our Facebook page, over HERE.
Pros:
DualBay gives you the option of one 3.5-inch drive or two 2.5-inch drives.
You get the choice of DisplayPort or HDMI graphics output.
Decent array of USB 3.0 and USB 2.0 ports.
Driver installation and BIOS updating is quick and easy.
If you boot off SSD the VM62B has snappy performance.
Cons:
Supplied as barebones so you need to add memory, storage and Operating system.
More expensive than MSI Cubi.
All the ports and connectors are on one side so the card reader and USB are next to the power jack.
Relatively big and boxy for a mini PC.
KitGuru says: VivoPC VM62B differs from other small form factor PCs due to its use of DualBay which will be a key feature for a select group of PC builders.