FiercePC has rushed us its new E-Sports Imperial Overlord gaming PC that is built around a Founders Edition GTX 1080 graphics card. This is especially big news for your reviewer who hand-carried a GTX 1080 back from the Nvidia event in the USA and passed it on to our man Zardon without opening the box. So yay, an actual gaming PC with GTX 1080 (original Founders Edition review HERE).

The rest of the hardware is pretty much what you would expect in any decent gaming PC – Core i7, a bunch of DDR4, Z170 chipset and a fast SSD. Broadly speaking we have seen it all before and that throws the focus on price and performance.
Well almost. The Corsair Carbide Spec Alpha chassis is an interesting choice as it is fairly small as tower cases go so this beast of a gaming PC actually looks rather understated. It would be easy to confuse it for a basic 'yours for £499' PC right up to the point when you fire it into life.
Watch via our VIMEO Channel (Below) or over on YouTube at 1080p60 HERE
Specifications:
CPU Intel Core i7-6700K Quad Core CPU 4.6GHz Overclock
CPU cooler Corsair Hydro Series H80i v2 Liquid CPU Cooler (120mm)
Memory 16GB Corsair Vengeance LPX DDR4-3000MHz
Motherboard Gigabyte Z170X-GAMING 7
Graphics card NVIDIA GeForce GTX 1080 8GB Graphics Card
SSD 256GB Samsung SM951 M.2 NVMe Solid State Drive
Storage 1TB WD Blue HDD
Case Corsair Carbide Spec Alpha Gaming Case – Black/Silver
PSU Corsair RM650x 80+ Gold Modular Power Supply
OS 64-bit Windows 10 Home
Warranty 3 Year Protect Warranty (Return to Base 1yr Parts, 3 year labour, Carriage Free for first 30 days)
Obviously the combination of Gigabyte GA-Z170X-Gaming 7 with 16GB Corsair Vengeance DDR4-3000MHz and an overclocked Core i7-6700K that Turbos to 4.6GHz (stock is 4.2GHz) was always going be rapid but our initial impression was that it was noisy.
Hmm, perhaps the Corsair H80i was set to spin too fast? Nope, Corsair Link was on silent and the push/pull fans at the rear of the case were indeed very quiet. The culprit was the pair of case fans at the front of the Spec Alpha that were roaring away. A quick flick of the fan speed control switch on the front of the case from fastest/loudest to slowest/quiet made a world of difference. If you are undecided about such things there is a third position in the middle that is a fair compromise.
One final word about the case fans is that they are white LED models that illuminate the inside of the case nicely. Yes we would prefer a proper RGB set-up but this cheap and effective approach works perfectly well.
With the Imperial Overlord running quietly we had a look through the component parts and found two items of note. The first is that the SSD has been upgraded from the expected Samsung 850 EVO to a Samsung SM951 which means it gains NVMe. The SSD is a chewing gum stick of M.2 goodness that sits just below the graphics card and offers sufficient capacity for your current crop of popular games.
Secondly, we noted the BIOS was rather elderly. The Gigabyte Z170X is on BIOS F5 which dates from October 2015. Since then Gigabyte has released F6 which improves M.2 compatibility, and F7 which helps XMP, along with Beta versions F8d, F8i and F8l for improved DDR compatibility from April and May 2016. We have to make it clear that we had no problems whatsoever with the Imperial Overlord however it would make us more comfortable to see the BIOS updated to F7.
FiercePC has bumped up the Turbo speed on the Core i7-6700K with a conventional overclock that increases CPU V Core 1.35V, CPU VCCSA 1.1V and DRAM to 1.35V. These are sensible, conservative figures that work well and deliver a handy ten percent more clock speed.
Testing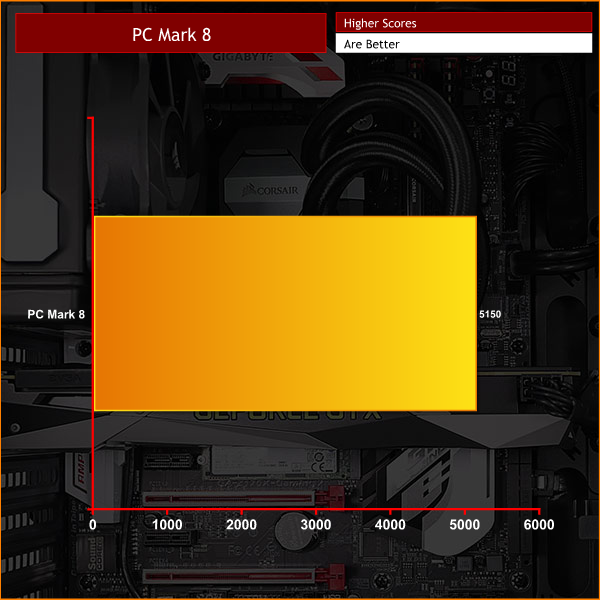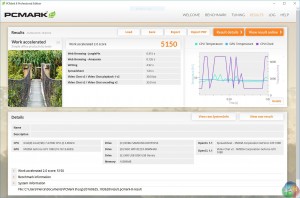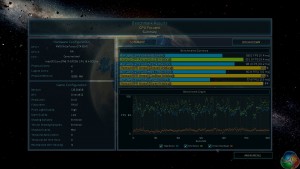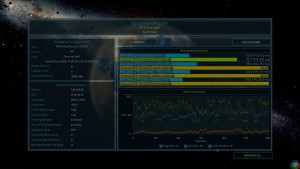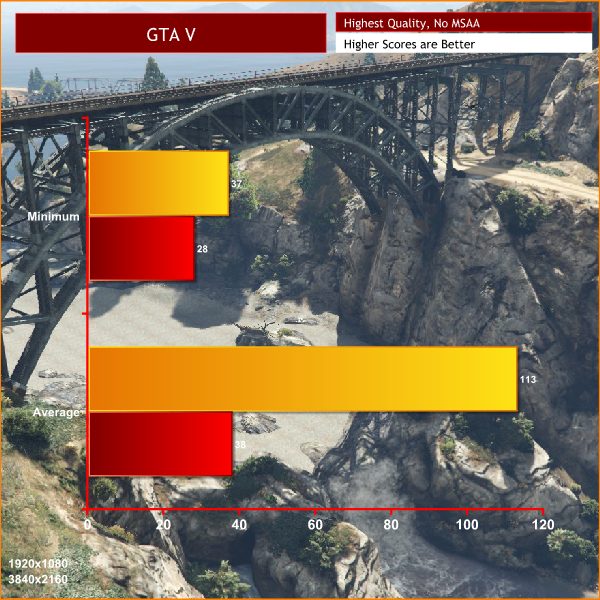 God's teeth this thing is fast. Mind you we expected nothing less but even so it was great to see GTX 1080 in action. As you will have seen in a number of KitGuru reviews GTX 1080 hauls in 1080p and 1440p and does a very fine job in 4K. It is unquestionably the finest single graphics card that sensible money can buy and Imperial Overlord pushes it to the fore.
At first glance the Corsair RM 650x power supply may appear to have a lowly rating of a mere 650W however we noted the Imperial Overlord only draws 80W at the mains socket when idling on the desktop and 310W under full load, which is incredibly low.
Cooling Performance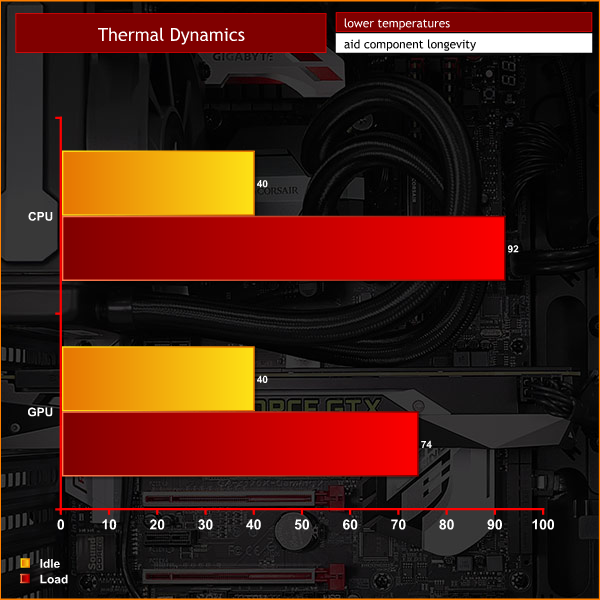 We had no problems during regular gaming use of the Imperial Overlord, however it was a different story when we pushed the hardware to the limit with AIDA 64. We saw the overclocked Core i7 push beyond 90 degrees Celsius point where throttling kicked in. This is doubtless due to the nature of the Skylake Core i7, rather than insufficient cooling as the Corsair H80i does a perfectly sound job.
Acoustics Performance
With the case fans set to the lowest position the Imperial Overlord is very quiet indeed. While it is not truly silent, in practice it is as quiet as it needs to be and that is thanks in no small part to the GTX 1080 which is impressively quiet in Founders Edition form.
Closing Thoughts
We are deeply impressed with FiercePC Imperial Overlord, however it is hard to offer it true love or affection. It looks fairly plain and doesn't offer much in the way of innovation or novel features. Instead it boils down to the GTX 1080 and its supporting Core i7, along with a blistering SSD and a goodly amount of DDR4 memory which all work incredibly well.
The biggest problem is that Imperial Overlord has a list of parts that we total as £1590 along with a selling price of £1640 so no matter how you cut it this is a seriously expensive PC when you consider it has an All In One liquid cooler on the CPU and an air cooled graphics card.
This is not intended as a downer on FiercePC which has responded to the launch of GTX 1080 by rushing out a new PC as fast as possible. We applaud them, however companies such as EKWB have now produced water blocks for GTX 1080 so what we want is the next PC coming down the line which is a Core i7/GTX 1080 combo with custom loop cooling. Hopefully that will cost around £2000 and will run considerably cooler, although that is merely speculation on our part. Nonetheless we have our fingers crossed.
Discuss on our Facebook page, over HERE.
Buy the Fierce PC eSports Imperial Overlord direct HERE.
Pros:
GTX 1080 gaming power
Overclocked Core i7
Lovely and quiet
Low power draw
Small footprint
Very fast Samsung SSD
White LEDs illuminate case interior
Cons:
Expensive
We are waiting for a custom loop version of this PC
CPU gets hot under extreme load
KitGuru says: An impressive PC that delivers a superb gaming experience.