Closing Thoughts
The Gigabyte Z390 Aorus Xtreme WaterForce motherboard and matching RTX 2080 graphics card are impressive pieces of kit that put you well on the road to building a high end gaming PC with custom loop cooling. Installing the monoblock is quick and easy as it comes with thermal pads applied, although the RGB connector is somewhat fiddly to pop into place.
Installing the graphics card is an absolute doddle and perhaps the biggest question mark is over the aesthetics. Generally speaking a system like this would end up branded with the logo of your chosen cooling company but in this instance the dominant theme is the Aorus Eagle. When you have spent £3,500 on your new PC we imagine you have a fairly clear idea whether or not you want to see the Aorus logo on your new creation.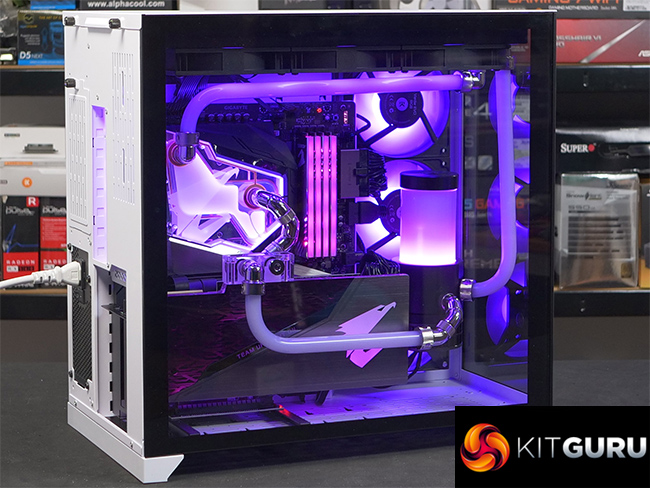 We were very happy with the EKWB hardware but expected nothing less as we have had good experiences in the past using similar components. We are very keen to get our hands on the fittings that were shown at CES as that will doubtless make a difference to the flow of the build.
It is a similar story with the Lian Li O11 Dynamic case which also lived up to expectations. It is an impressive piece of hardware where clever design means the case works better than a great many other models that cost considerably more. It seems a safe bet the XL version of O11 will be a winner.
If this were a review of the Z390 WaterForce motherboard we would now turn to the subject of the price. Happily, as this is a feature, we can instead conclude by saying 'Wow, it looks good.'
As this was a custom build using many individual components, we have linked them all below should you wish to purchase any (or all) of them:
KitGuru Says: We're very glad Gigabyte sent us the Z390 WaterForce and are confident they will want it back.