KitGuru visited Ian '8Pack' Parry at Overclockers UK to answer the burning questions of the day; what exactly do you get when you spend between £3,000 and £12,000 on a gaming PC and why doesn't he use AMD graphics cards? The answer to the first question is 'Many, many GigaHertz' and to the second is 'Have you seen our new Meteoroid with Radeon R9 Fury X?'
In our video 8Pack talks us through three PCs which are arranged on the table from left to right thus:
Supernova costs £12,000 and uses LGA2011-3 Core i7-5960X running over 4.6GHz with four Titan-X GPUs in quad SLI.
In the middle we have the new £3,600 Meteoroid Z170 with Core i7-6700K clocked to over 4.7GHz and an AMD Radeon R9 Fury X which is the first 8Pack system with Radeon graphics.
On the right we have a LAN PC called Asteroid, again with Core i7-6700K running over 4.7GHz and a single GTX 980Ti at £4,000.
Watch via our VIMEO Channel (below) or over on YouTube at 1080p60 HERE.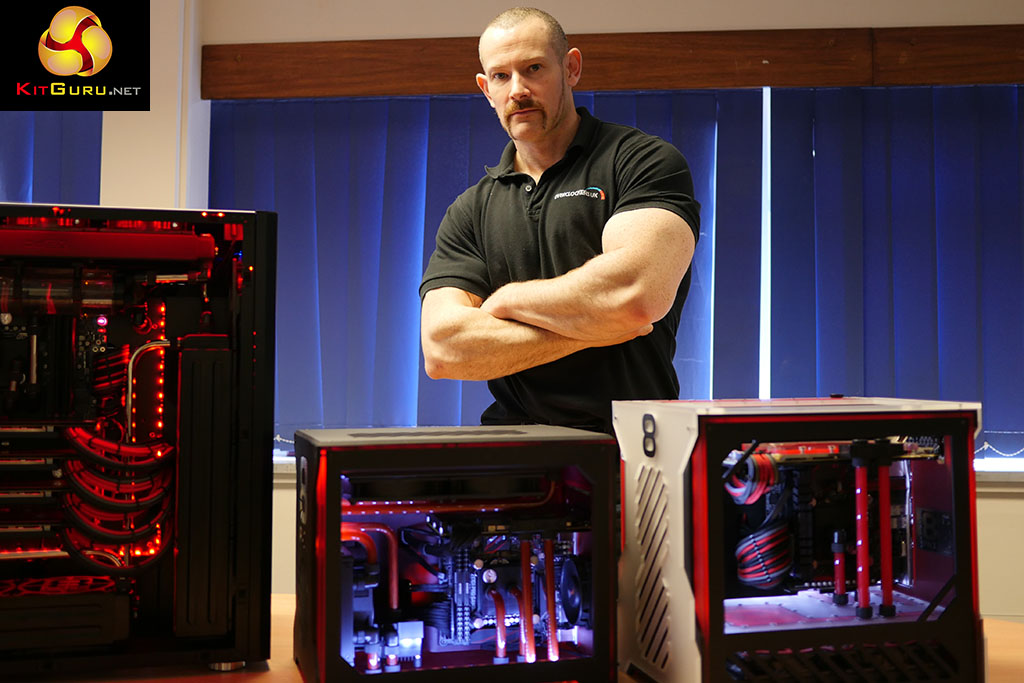 Every 8Pack PC is built to order and has each component overclocked individually with the result that the numbers are 'guaranteed to hit specific speeds' with an actual clock that might be considerably higher. For example a minimum CPU speed of 4.6GHz could be anything up to 4.9GHz.
Aesthetics and styling are a huge part of the 8Pack package, as you can see in our photos and video. In particular we were impressed by the way the liquid cooling reservoir is either integrated in the case to reduce it to the minimum or placed stage centre as a visual feature. It is a similar story with the coolant which swirls, bubbles and adds movement to the system.
When customers order a new 8Pack system (or a regular gaming PC from Overclockers UK) we are told that most have very clear ideas about the colour scheme they want. With an 8Pack system they follow Ian Parry's firm guidance about components – lets be honest would you argue with him? – but the mainstream systems are much more free form. At least one customer selected a particular Gigabyte motherboard purely because the blue and white colours matched his football team.
Our photos of the Overclockers UK warehouse give a good idea of the vast array of hardware that is held on site, along with the testing facilities where racks of CPUs are checked for maximum clock speed.
In a distant corner of the warehouse is the 8Pack test bench where he gets busy with liquid nitrogen as he breaks overclocking world records. The warehouse staff mentioned, casually, that 8Pack blows up quite a few graphics cards and motherboards. That is all part of the R&D process and the cost is factored into those final selling prices. If you are happy to destroy a few Core i7-6700K CPUs and two or three Titan-X graphics cards you might consider building your own ultra-high end gaming PC.
Otherwise you might just prefer to leave it to the experts.
Discuss on our Facebook page, over HERE.
Kitguru says: Special thanks to Overclockers UK and Ian '8PACK' Parry for inviting us down to their HQ to get a glimpse 'behind the scenes'.